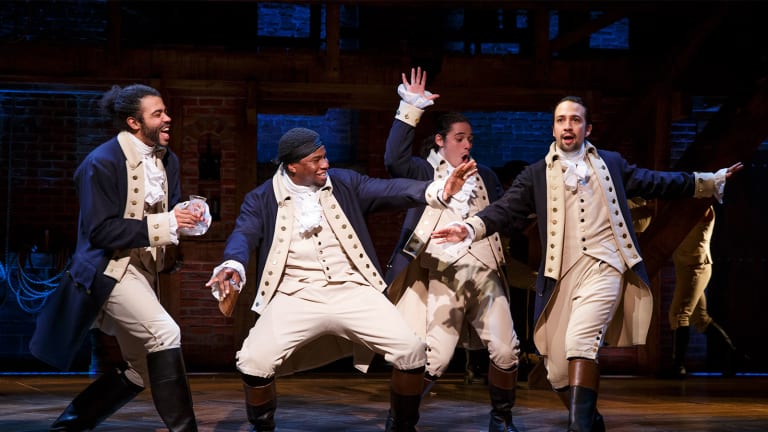 10 Ways to Get Cheap Broadway Tickets
Popular shows actually discount some tickets to encourage affordability for audiences. Here's how to get those tickets.
Visiting New York can be expensive. Everything probably costs more than you're used to, unless you live there. But even New York City and surrounding suburban residents prefer to find discounts where they can. They do, and so can you.
Here's how you can find discount tickets to Broadway - the string of theaters known for their proximity to "The Great White Way," which got the nickname being one of the first streets in the U.S. to be lit with electricity.
While the long and wide street that bears the name cuts diagonally through Manhattan, following a trail originally made in the brush by native local inhabitants, the "Theater District," which is referred to by the name of the street, is defined essentially as between 42nd and 53rd streets, where the marquees of theaters shine brighter than even the street lights along the way. Even today, the "Great White Way" has more than 45 theaters and, at the same time, about 40 shows are performing, with new shows opening and end-of-run shows closing.
Popular shows actually discount some tickets to encourage affordability for audiences. Most Broadway shows don't make a profit, but they want to bring in as many people as possible without hurting the show's popularity.
How to Get Cheap Broadway Tickets: 
1. The Theater Development Fund
The Theater Development Fund, or TDF, provides discount tickets to a large number of people. To benefit from TDF tickets, you have to qualify for membership and pay an annual fee to join. 
This is the 'insider's' insider way of getting discounted tickets. 
Membership, if you qualify, costs $40 a year. For your $40, you get the opportunity to buy tickets before they go on sale to the general public, with discounts up to 70% off, online and in advance, for hundreds of Broadway, Off-Broadway, and even Off-Off Broadway theater shows, music concerts and dance performances. 
Tickets can cost as little as $11-$49, so your annual membership can pay for itself with the discount on your first pair of tickets. 
To join, go to tdf.org, and check to see if you qualify.
Among the categories of qualification are full-time high school and college students or recent graduates (26 years old and under); freelancers; non-exempt employees, full-time teachers, full-time union members, retirees (62 years old and over and no longer working), full-time performing arts professionals; full-time civil service employees, full-time staff members of not-for-profit organizations, members of the armed forces, full-time clergy and individuals on federal disability.
Also, if you or someone you know is a TDF member, each member can buy up to nine tickets per performance.
2. TKTS Discount Booths
While TDF operates the TKTS Discount Booths, they are two different programs. The biggest difference is, TDF is open only to eligible individuals and requires the $40 membership fee to join, allowing members to purchase tickets online at discount prices in advance. The TKTS Discount Booths offer same-day discounts on tickets to the public.
There are now three TKTS Discount Booths in Manhattan where members of the public can try to get discount tickets to shows the same day. Tickets at the booths are available at 20%, 30%, 40% and 50% off the full price, plus a $6-per-ticket service charge.
To know the day's offerings at TKTS Discount Booths before making your way to them, there is a live-feed of current ticket offers, and an official TKTS app available for iPhone, Android and Windows Phone for free.
TKTS Discount Booths can be found "under the red steps" at Father Duffy Square at Broadway and 47th Street, near Times Square; at the corner of Front and John Streets, at 190 Front Street, in the South Street Seaport area; and in the David Rubenstein Atrium at 61 West 62nd Street near Lincoln Center.
3. Shop on Your Phone
There are a number of apps that let you find discounted tickets on your mobile phone up to a month in advance, such as TodayTix app. You'll see discount deals listed along with tickets being sold at regular prices. 
But consider that online tickets usually have additional fees, which could affect the advantage of a discount. 
Other online discount sites include TheaterMania, GoldStar, and BroadwayBox. 
You can also try New York Show Tickets, a theatrical marketing agency based in New York City that provides discounts to Broadway shows in the form of discount codes (and other forms of discounts) that allow the general public access to Broadway shows for less than the normal face value of the show. 
4. Win the Ticket Lottery
In 1995, the producers of "Rent" developed a model to create interest in their show and to keep a few tickets for the show affordable for fans. A ticket lottery also ends overnight camp outs on New York City streets for General Rush tickets. Ticket prices in the lottery cost $25-$40 for front row orchestra seats. Some shows offer 20 pairs of tickets, while others only do 15 tickets per show. Most of the top 10 shows on Broadway offer a ticket lottery. 
Lottery rules vary for different shows. But, generally, lottery tickets are only available the day of the show, and require you to be present to enter. Shows that provide lotteries do it for every performance of a show. If you win a ticket lottery, you are not allowed to enter the same lottery for a year. 
To prevent multiple entries, most lotteries require participants provide a government ID to be able to enter. There is no charge to enter the lottery, but tickets can only be purchased with cash, and no bills larger than $20 are accepted.
NYTIX, the website of New York Show Tickets, has a lottery schedule.
5. General RUSH Tickets Are Another Option
RUSH tickets were created by Broadway producers to again make Broadway tickets more affordable for those without a lot of disposable income, to build word-of-mouth buzz for a show and reward loyal fans.
Often, RUSH tickets are first-come, first-served. They are priced between $25-$45, and are often for the front rows of a theater. Fans can show up at the theater box office first thing in the morning, and buy Broadway tickets. Some shows still hold "Anyone RUSH tickets," requiring ticket buyers to arrive at a specific time of day if not when the box office opens in the morning, and, again, must be purchased in cash. Most Broadway theater box offices open around 10 a.m. Monday through Saturday, and they open on Sunday at noon.
6. Join Major Theater Companies
Most of the city's major theater companies offer membership packages as well. You pay a fee up front, as with TDF, and in return get discounted tickets all year, before they go on sale to the general public. 
Theater companies offering membership packages include the Roundabout Theater, Public Theater, Playwrights Horizons, New York Theater Workshop, Atlantic Theater Company or Ars Nova.
7. Group Discounts Using Telecharge
Telecharge, which handles ticketing for most Broadway shows, offers group discounts. The minimum size of a group varies between 10-20 people. And Telecharge does not take a service fee for group sales, saving the cost normally paid on individual tickets. Group tickets also often go on sale before individual ones do.
8. Wednesday Matinees
A lot of Broadway shows have Wednesday matinee shows at 2 p.m. or 3 p.m. Wednesday matinee discount tickets can be 10%- 50% less than the regular ticket prices, and are available for anyone.
9. Box Seats
Broadway theaters that still offer box seats tend to discount the ticket prices because often a box seat is considered a partial view or obstructed view. You'll have to ask at the theater's box office if it sells discount box seats. You may be pleasantly surprised.
10. The Largest Nonprofit Theaters Offer Discounts to Young People
A theater-goer between the ages of 21 to 35 can join Lincoln Center Theater's LincTix program. That program offers $32 tickets to all shows. If you're between 18 and 35, you can get tickets for $25 per show at the Roundabout Theatre Company, joining its Hiptix program. And the Manhattan Theatre Club has a 30 Under 30 program, allowing people age 30 or younger to buy tickets for $30. And if you're in the tri-state area of New York, New Jersey and Connecticut, and a librarian, teacher or student, you can get vouchers for discounts of 30% to 50% off via the School Theatre Ticket Program at schooltix.com.
There are a couple other discount possibilities, but they have inherent difficulties if you actually want to see or hear a show, as opposed to just being in a theater when one is on. These include Partial View, or Standing Room Only, tickets.