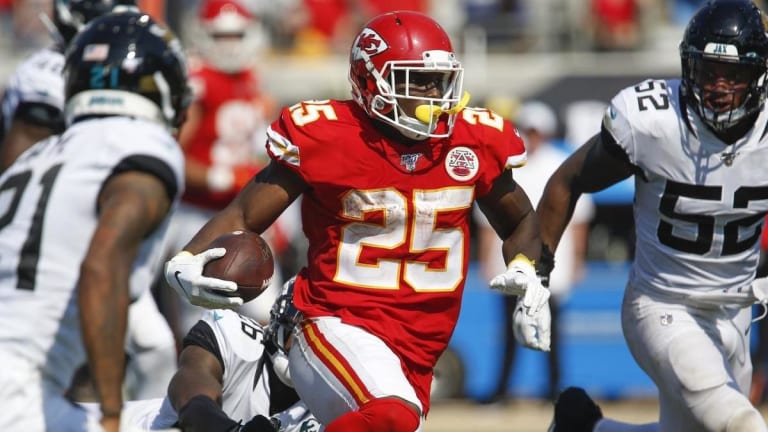 Week 2 Fantasy Football Sleepers: Josh Allen, LeSean McCoy, Miles Sanders and James Washington
Sleepers. It's not just a disturbing Kevin Bacon movie (and what happened to Jason Patric anyway?). No, finding sleepers is what the true Fantasy Football fanatics love, especially those who invest as well. Finding a good sleeper is like buying Roku before it quintuples. Sleepers are how you separate yourself from the Fantasy pack.
For week 1, we nailed Lamar Jackson and Desean Jackson's big days. And Josh Gordon outperformed. Unfortunately, Nick Foles got hurt after a big throw and Dante Pettis was a complete bust. We won't trust Kyle Shanahan's depth chart ever again. These are the risks when you are hunting for sleepers.
Week 2 Fantasy Football Sleepers
QB - Josh Allen - Buf vs. NYG: Allen got off to a rough start against the Jets in week 1 with some tough breaks on two deflected interceptions, only to recover and lead a comeback in the second half. Recovery was the story of Allen's season last year with the second-year QB often putting up more than 200 yards passing and near 100 yards rushing toward the end of the season. Allen now faces a Giants Defense that gave up the second most fantasy points to Quarterback Dak Prescott (only Miami was worse with Lamar Jackson trouncing them). As long as Allen doesn't eat his pregame meal at a Jersey Turnpike rest stop Roy Rogers, he should roll.
RB - LeSean McCoy - KC vs. OAK: McCoy had some bounce in his debut for his old coach Andy Reid with 81 yards on 10 carries. There's room for both Damien Williams and McCoy in Reid's backfield. Look watch for the Chiefs Head Coach to lean on McCoy more and more and save Williams for the passing attack. Here's a key stat on rushing efficiency, which measures the total distance a back goes relative to yards gained; McCoy was the second most efficient runner in week 1, behind only Saquon Barkley. The game against the Raiders is the highest total on the Vegas board so look for a lot of offense and McCoy to efficiently find those holes.
RB - Miles Sanders - PHI vs. ATL: Eagles went with a dreaded running back by committee in Week 1 and are expected to continue to do so. But there's some hope here. While Sanders had the least yards, the rookie did have the most carries out of the three backs (Jordan Howard and Darren Sproles). He also had a TD run called back which would have beefed up those sorry stats. The Falcons gave up nearly the second most points to opposing running backs last year and the Vikings committee led by Dalvin Cook ran all over them in Week One. Sanders is a better play then 49ers rusher Matt Breida, who is on average, ranked a lot higher than him by the experts for this week. The speedy rookie is still figuring things out.
RB - Malcolm Brown - LAR vs. NO: A lot of people are expecting a Todd Gurley comeback in Week Two but there is clearly still an issue with the one-time stud back. Enter Brown. The Saints run D is no pushover, but this game is going to have some points on the board if Vegas is to believed (O/U 53). Brown, not Gurley, got all the touches in the red zone and came away with two scores. They are saving Gurley and allowing Brown to punch it in in the trenches. Could be a cheap source of TDs.
WR - James Washington - PIT vs SEA: Smith-Shuster is a little banged up (toe) and Donte Moncrief was a disaster. James Washington may turn out to be Big Ben's big play guy. Washington was No. 1 last week out of all receivers in average targeted air yards at 26.8. That stat measures how far down the field they are being targeted each throw. Washington was able to haul in only two of those six targets, but it was a big 45-yard play. Seattle secondary is not as good as it once was as we saw in Week 1 with Bengals' receiver John Ross lighting up their secondary.
WR - Kenny Stills - HOU vs JAX: This one is a deep sleeper. Stills was traded from the Dolphins just before the start of Week One and still managed to score for the Texans in limited action. He'll know Deshaun Watson's playbook now. With Keke Coutee banged up, the talented Stills could steal a role in this high-powered offense. The Jaguars secondary will be focusing on Hopkins so there could be some room for Stills.