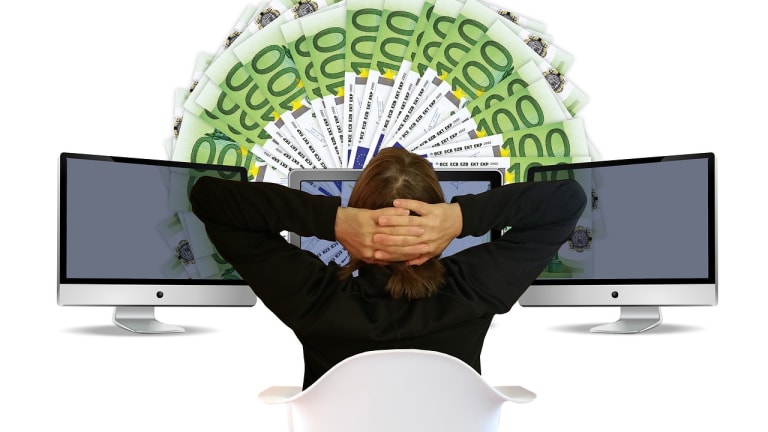 Trump Tax Reform Could Move This Earnings-Focused ETF
Corporate tax reform means bigger earnings for companies. Invest in companies that are ready to make the biggest gains.
Donald Trump will make his biggest speech yet as President of the United States Tuesday evening when he addresses a joint session of Congress for the annual State of the Union address. One of the speech's key talking points will be tax reform and deregulation. Specifically, how close are we to seeing Trump's promised package of tax cuts and regulatory revision and what will it ultimately look like.
This will be especially important because the markets have rallied since election day on Trump's pro-business agenda. Many stocks have already factored the Trump tax cuts into their prices and any changes to what they believe will happen could easily push the stock market back down again. If Tuesday's speech provides little detail or timelines (or just uses more superlatives such as "great", "massive" and "fantastic"), it could shake the confidence of traders.
Small caps have out-rallied the S&P 500 over the past few months since they should see greater impact from tax reform. Tax savings should, in theory, flow right down to the bottom line setting the stage for higher share prices or higher dividend payouts. On the flip side though, if the market gets the sense that tax reform can is getting kicked down the road, small caps could end up getting hit the hardest.
The WisdomTree Small Cap Earnings ETF (EES) could be a key fund to watch. The fund looks to identify small companies that have delivered at least four consecutive fiscal quarters of positive cumulative earnings. While many small caps tend to be focused on growth, one of the reasons I like this ETF is that it concentrates on already profitable companies. Corporate tax cuts provide a catalyst for further upside but the fact that these companies are already generating growing earnings and cash flows should provide some protection on the downside.
Another differentiator of this fund is that it earnings-weights its portfolio instead of market-weighting it. Companies with greater earnings get greater weight in the portfolio. The double-edged sword of this approach is that while it tends to make the fund a bit riskier (as it tends towards companies that are growing faster than average), it also produces a portfolio that is relatively less expensive. The forward P/E of the Small Cap Earnings ETF is around 16, a number that compares quite favorably to the iShares Russell 2000 ETF (IWM) that trades at 22 times earnings. The fund just hit its 10th birthday and in that time it has produced an average annual return of 8.3%, compared to the 6.6% average annual return of the Russell 2000.
Tuesday's speech could be a key driver for the market over the near future. Treasury Secretary Steve Mnuchin talked this past week about enacting some form of tax relief by August of this year. Watch to see if Trump confirms the plan in his speech. If he fails to deliver any key details about his economic agenda for the upcoming year, it could be the impetus for a short-term reversal of the current up trend.
If you enjoyed reading this article, please be sure to share it below and subscribe to the site so that you don't miss any updates or new stuff! As always, thank you for taking the time to read!