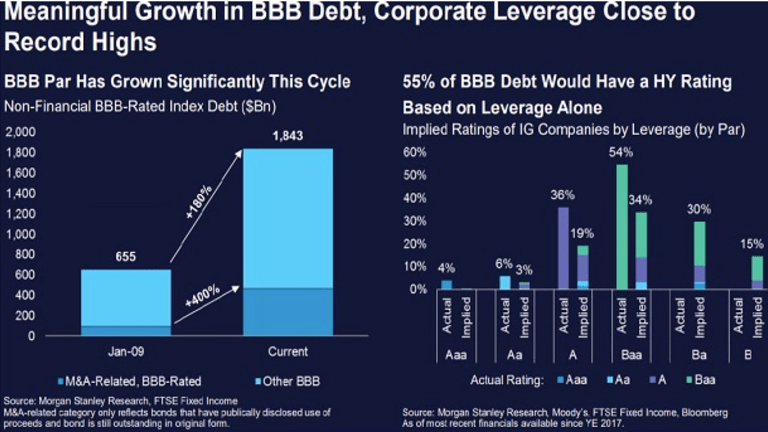 There's A Lot More Junk Debt Out There Than The Credit Ratings Indicate
Corporate balance sheets look a whole lot worse than they appear on the surface.
One of the things that ultra-low interest rates and billions of dollar of Fed QE is hiding is the deterioration of corporate credit quality.
The data citing rising corporate debt loads is well-documented. 
Total debt held by large, non-financial corporations just exceeded the $10 trillion mark. Add in the debt held by small companies, family businesses and other entities, the number climbs to around $15.5 trillion. That's nearly 75% of U.S. GDP!
Perhaps worse is the fact that a lot of this debt is rated BBB and below.
Roughly 72% of total corporate debt is rated investment-grade with the remaining falling in the junk category. The problem is that nearly 57% of the debt currently rated investment-grade is rated BBB, just one notch above junk.
If the global economy finally slips into a recession or even slows significantly enough, the markets could be facing a wave of corporate credit downgrades and defaults. Perhaps we have a better idea of exactly why the Fed is flooding the market with liquidity!
If you look at current levels of corporate balance sheet leverage, the situation looks even worse.
According to Morgan Stanley research, a stunning 45% of investment-grade debt should be rated junk based on leverage alone.
Add in the fact that the current risk premium on the highest-rated junk bonds is at its lowest level since 2007 and I don't see a good logical reason to own junk bonds in your portfolio right now.
How To Play This In Your Portfolio
Avoid junk bonds and junk bond ETFs.
With returns of 14-15% year-to-date and yields of 5%, investors will no doubt continue to be attracted to this group, but the current risk/reward tradeoff is incredibly poor.
I think one of the main themes of 2020 will be principal protection and preservation. It would be safe to stick with short-term Treasuries and high quality corporate bonds for income in your portfolio.
ETFs To Avoid
iShares iBoxx USD High Yield Corporate Bond ETF (HYG)
SPDR Bloomberg Barclays High Yield Bond ETF (JNK)
iShares 0-5 Year High Yield Corporate Bond ETF (SHYG)
SPDR Bloomberg Barclays Short-Term High Yield Bond ETF (SJNK)
Invesco Senior Loan ETF (BKLN)
Xtrackers USD High Yield Corporate Bond ETF (HYLB)
If you liked this article, please click the LIKE button or share it on Twitter, Facebook, etc. using the buttons below.
Feel free to leave any comments, questions, or thoughts on the ideas presented here (and sign-up if you haven't already).
Follow me and receive periodic notifications when I post here by clicking the FOLLOW button at the top of the page!