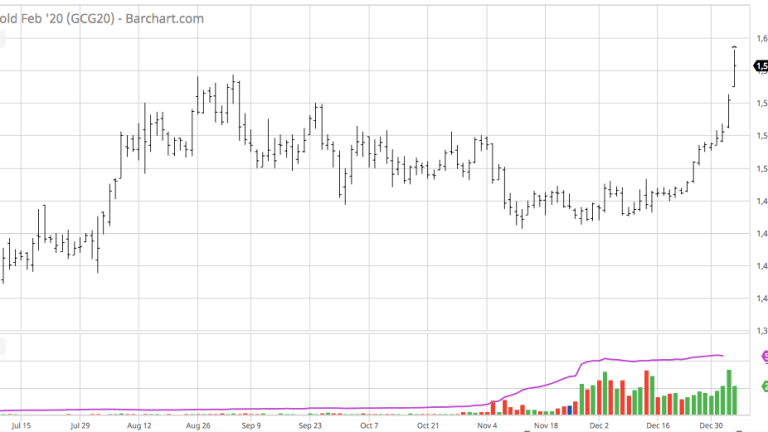 Melt Up In Gold Prices; Target = $1600 This Week
The $1600 level seems inevitable now and could be reached as early as this week if U.S.-Iran threats continue to escalate.
The $1600 level seems inevitable now and could be reached as early as this week if U.S.-Iran threats continue to escalate.
As long as Donald Trump and Iranian officials keep trading verbal barbs and threatening to escalate military action, gold looks like it's ready to rise parabolically.
Despite the attempts to govern by tweet, Trump has been taking a hardline stance (outwardly, at least) in order to deter violence against U.S. targets.
Historically, these kinds of conflicts are short-term in nature and tend to de-escalate before significant violence erupts. In these instances, commodities prices tend to spike before heading back down as they did during the Saudi oil facility strikes last year.
For now, gold looks likely to spike higher.
Gold hit a mid-session high of $1590 an ounce earlier in the day before pulling back to the $1570s, so it's close to the $1600 level already.
To see if gold can hit $1600 soon, I'm watching the VIX closely. It's gotten a bit more volatile lately on an intraday basis but has only peaked thus far around 16.
This level doesn't really suggest panic or even heightened uneasiness, but if we see the VIX move above 20 or so, I think $1600 gold is in the bag.
Other commodities are only modestly participating in this move higher. Silver is up about 1.2% this morning, while crude oil is up 1.1% to $63.70 on the February contract, its highest level since May. Brent crude briefly moved above the $70 level for the first time since September.
I'll leave the political discussion out of this narrative and keep it just to a discussion of how the markets will react. For now, the battle of rhetoric appears ready to get worse before they get better and that likes mean gold moves above $1600 sooner rather than later.
How To Play It In Your Portfolio
iShares Gold Trust ETF (IAU)
SPDR Gold Trust ETF (GLD)
VanEck Vectors Gold Miners ETF (GDX)
VanEck Vectors Junior Gold Miners ETF (GDXJ)
If you liked this article, please click the LIKE button or share it on Twitter, Facebook, etc. using the buttons below.
Feel free to leave any comments, questions, or thoughts on the ideas presented here (and sign-up if you haven't already).
Follow me and receive periodic notifications when I post here by clicking the FOLLOW button at the top of the page!