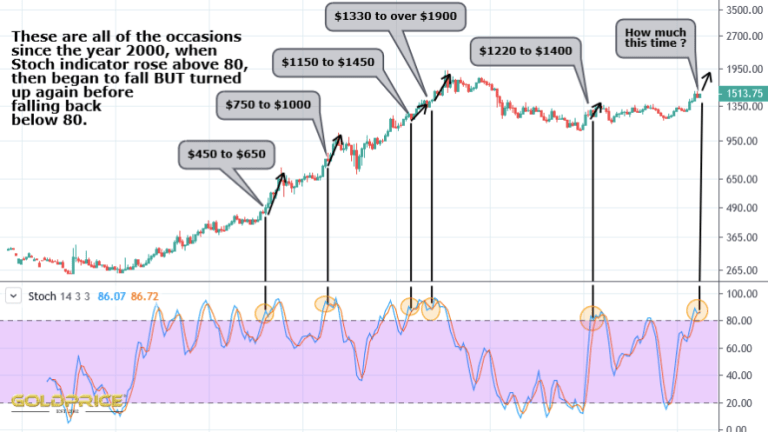 Gold & Silver Getting Ready To Rally
Several precious metals analysts are noting that gold prices could be poised to jump as much as $300 an ounce.
Over the past three months, gold prices have hovered right around the $1500 level despite a backdrop that has seen a lot of volatility in Treasuries. With bond and gold prices usually correlated, it was impressive that gold was able to hold relatively steady despite the news that sent Treasury yields spiking.
Several analysts on Twitter agree.
With the stochastic levels above 80 for some time now, will it lead to $100+ per ounce gains in gold prices as it has several times in the past? $1700 looks like the short-term target here.
If gold prices rally, gold miner stocks could be poised to pop. They've lagged gold prices over the past three months and are looking at 5-10% upside on even a modest bounce in gold prices.
Relative strength in gold and gold shares has been declining for several months but could be nearing a point of breakout at any time. If RSI can break through that downtrend and get to 60 on short order, gold could make a run to RSI 75 within the next couple of months.
Crescat also dropped a note on silver that tells a similar story. Silver is turning north relative to equities in the same way it did during the tech bubble. I don't know if we're primed for a run like we saw in the 2000s but if this isn't a fake bottom, silver could look like a great asset to hold over the next couple of years.
ETFs To Consider
SPDR Gold Trust (GLD)
iShares Gold Trust (IAU)
VanEck Vectors Gold Miners ETF (GDX)
VanEck Vectors Junior Gold Miners ETF (GDXJ)
iShares Silver Trust (SLV)
Global X Silver Miners ETF (SIL)
ETFMG Prime Junior Silver Miners ETF (SILJ)