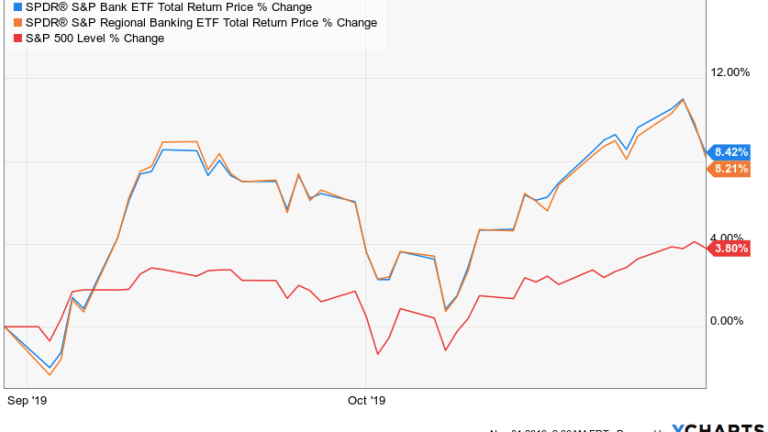 GDP Report Turns Bank Stocks Into A Buy
I expect that the strong Q3 GDP report coupled with another Fed rate cut will help bank stocks outperform heading into 2020.
The banking sector has been struggling as falling interest rates squeeze interest margins making profitability increasingly difficult. I think that changes after this week's stack of economic data.
The primary driver for this will be the shape of the yield curve. We know that the Fed controls the short end and the market controls the long end. With spreads so narrow, banks have been reliant on things like investment banking and trading to make up the shortfall. In Q3, banks were fairly successful overall in compensating for the loss of net interest income but the environment could be changing.
The major issue has been the 3-month Treasury yield remaining as much as 40-50 basis points above the benchmark 10-year yield. As U.S. economic data has stayed resilient, the yield curve has begun to normalize again.
Yield spreads of 15-20 basis are still historically narrow but conditions have improved considerably. The 30-year mortgage rate has ticked up about 25 basis points over the past two months. That's not necessarily a game changer but it's an indication of better times ahead. I expect this will help banks expand their margins, improve profitability and give stock prices the impetus to rally over the next couple of quarters.
How To Play This In Your Portfolio
Consider adding bank ETFs to your portfolio. Hold for a period of 3-6 months and then reevaluate for updated market conditions.
I think we're looking at a potential rise in the long end of the yield curve here fueled by either inflation or a rotation out of bonds and into equities. Either way, couple it with lower rates on the short end and it's a stronger environment for banks.
You'll probably want to look at bank ETFs for more targeted exposure to this. Financial ETFs, such as the Financial Select Sector SPDR ETF (XLF), also offer bank exposure but it gets mixed with real estate, insurance companies, etc. and may give you a somewhat different result.
ETFs To Consider
SPDR S&P Bank ETF (KBE)
SPDR S&P Regional Banking ETF (KRE)
Invesco KBW Bank ETF (KBWB)
First Trust Nasdaq Bank ETF (FTXO)
If you liked this article, please click the LIKE button or share it on Twitter, Facebook, etc. using the buttons below.
Feel free to leave any comments, questions, or thoughts on the ideas presented here (and sign-up if you haven't already).
Follow me and receive periodic notifications when I post here by clicking the FOLLOW button at the top of the page!