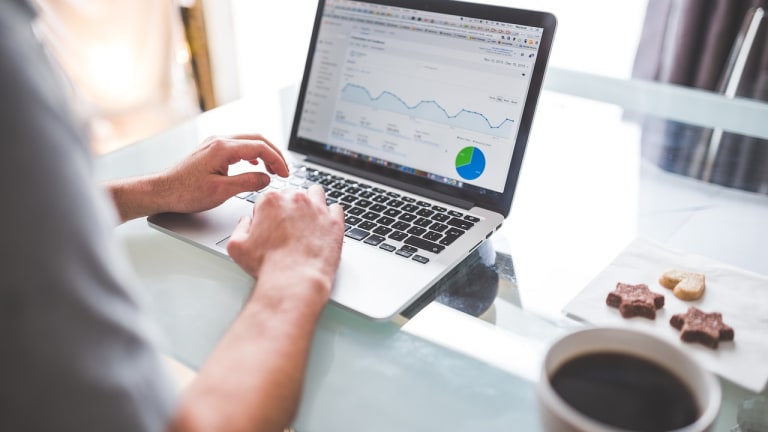 ETF Trade Ideas For The Week Ahead: The Schwab-TD Ameritrade Merger Makes Brokers A Strong Buy; Treasuries Looking Especially Risky
The bull rally finally took a pause last week as equities posted their first losing week since September. The up trend is still in place but the action in Treasuries is intensifying.
The shortened trading week will probably keep many investors on the sidelines but we'll still get plenty of new economic data to work with, such as home sales, personal income & spending, consumer confidence and the latest Q3 GDP estimate. It's unlikely that any of these numbers will move the markets to any great degree and I expect most to instead focus on Black Friday weekend sales figures.
Still, there are a few trades that are worth exploring this week.
iShares U.S. Broker Dealers & Securities Exchanges ETF (IAI)
A merger like the one between Charles Schwab and TD Ameritrade looked inevitable once most of the major brokerages eliminated commissions on virtually all trades. The pure discount brokers, such as TD Ameritrade, E-Trade, Interactive Brokers and Robinhood, all felt like they'd be prime M&A candidates since their business models were essentially broken with the fee-free model.
The companies with more robust asset management businesses, such as Fidelity, Vanguard and UBS, along with the big banks, including JP Morgan Chase and Wells Fargo, are all prime candidates to begin snatching up these names.
I think we're looking at a period of consolidation for the brokerage sector making the group a strong buy. I suspect that we'll see E-Trade snapped up before too long with Robinhood the next in line.
Renaissance IPO ETF (IPO)
The 2019 IPO market has been an unmitigated mess. Virtually all of this year's high profile debuts - Uber, Lyft, Beyond Meat, Chewy, Fiverr, CrowdStrike, Pinterest, The RealReal and Zoom Video - are almost all at least 30% off their recent highs. Only a few are even above their IPO price. So how is the IPO ETF up 34% on the year and still climbing?
The answer is in how the fund is built. From the prospectus:
IPOs that meet liquidity and operational screens are candidates for inclusion in the Index. Sizable IPOs are included within the first several weeks of trading, or upon quarterly reviews, weighted by tradable float, and capped at 10%. Securities that have been public for two years are removed at the next quarterly review.
The highlighted section is where the ETF is getting its juice - from older IPOs. Spotify, Roku, VICI Properties and DocuSign are the top 4 holdings and comprise nearly 30% of the portfolio. Roku is up 420% year-to-date. DocuSign is up 81%. The other two are up at least 25%. You can see where the performance is coming from.
But those stocks are going to get kicked out of the fund soon and the investable universe will narrow considerably and may need to include larger shares of these IPO busts. I'd definitely avoid this ETF going forward.
iShares 20+ Year Treasury Bond ETF (TLT)
Long-term Treasuries are up 18% this year giving what, right now at least, would be its best year since 2014. With the 30-year T-bond rate hovering right around the 2.2% level, there's a case that yields could move sharply in either direction.
The case for lower rates is the global economic slowdown. The jobs market is still strong and consumer spending is healthy but most other data is showing weakness. The Q4 GDP growth estimate in the U.S. is a meager 0.4%. Industrial activity and manufacturing activity are in contraction. Business investment is shrinking. Negative interest rates are all around the world. If the overall economy drifts towards recession here in the States (and the Fed continues cutting rates), we could easily see the 30-year drift down to 1.5% in a massive flight to quality. That would imply roughly 13% upside from current levels.
The case for higher rates is inflation. Rates are already historically low and the Fed seems prepared to move them back towards zero. The Fed is already pumping billions of liquidity into the market making cheap money even cheaper. If consumer spending remains healthy, that's going to inevitably lead to higher prices in the near future. If inflation starts increasing (the core rate is already at 2.3%), you can bet that Treasury rates will start heading higher too.
Long maturity Treasuries have been fairly volatile recently. With the high degree of uncertainty ahead, I'd move to the short end of the curve with a fund like the iShares Short Treasury Bond ETF instead.
iShares AAA-A Rated Corporate Bond ETF (QLTA)
Along those same lines, investors should be aware of the risks in the corporate bond market as well.
With the global economy slowing, corporate debt is at increased risk of defaulting, especially in the BBB category. The lowest grade of debt that still qualifies as investment-grade, bond funds have loaded up on this group in an effort to increase yield. The biggest corporate bond ETF, the iShares iBoxx $ Investment Grade Corporate Bond ETF, has half of its assets in BBB.
While the risk of flat-out default is low in this group, the risk of downgrades is quite real. If something gets downgraded to BB, all investment-grade bond funds will need to dump their holdings making it likely that owners would need to sell for pennies on the dollar in order to liquidate their positions. A flood of junk debt hitting the market could quickly spiral downward mimicking something like the 2014-2016 decline that saw junk bonds plunge 25%.
Switching to a product like QLTA would impact the yield you'd earn (2.45% for QLTA vs. 2.95% for LQD) but QLTA avoids the BBB category altogether making it a much safer alternative for bond investors.
If you liked this article, please click the LIKE button or share it on Twitter, Facebook, etc. using the buttons below.
Feel free to leave any comments, questions, or thoughts on the ideas presented here (and sign-up if you haven't already).
Follow me and receive periodic notifications when I post here by clicking the FOLLOW button at the top of the page!