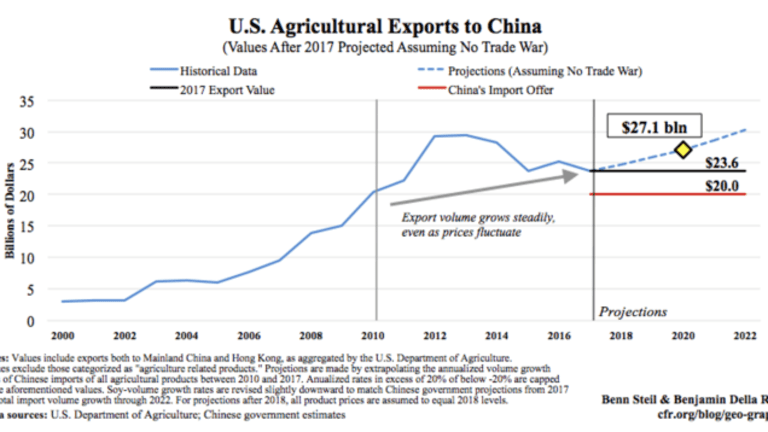 China Is About To Win The Phase One Trade Deal; Time To Buy
As negotiations continue to try to wrap up phase one of the U.S.-China trade deal, China is pushing for last minute concessions that would make it the early winner.
Did Trump blow it by announcing a trade deal had been completed before both sides officially agreed to terms and signed it? It's sure looking that way.
China Pressing Trump to Remove More Tariffs Ahead of Trade Deal Signing
Despite a lot of bombast from the White House, China has mostly been coming out ahead in the staredown. Trump is facing a slowing (albeit still healthy) economy. He'll also be facing an election in 2020 in which he likely needs a trade deal completed beforehand. It's the primary way he can keep the economy cooking and the stock market rising long enough to give himself the best chance of reelection.
But he may have painted himself into a corner in the process.
The one thing China has been good about doing up to this point is waiting things out. Ultimately, an agreement to make $20 billion in agriculture purchases isn't a big game changer, especially in the context of China getting a likely rollback of the planned 15% tariff on December 15th, the possible rollback of a 15% tariff implemented at the beginning of September and maybe some progress towards getting the big 25% tariff reduced. Quite simply, this is a better deal for China than the United States.
The fact that Trump touted the deal as agreed to and called it "massive" was an overreach and the Chinese are going to use it to squeeze every drop of blood out of the turnip that they can.
How To Play This In Your Portfolio
Chinese stocks are still sitting roughly 20% below their pre-trade war highs which leaves a lot of upside on the table if many of these trade issues get worked out.
The amount of ag purchases that are agreed to or the progress on intellectual property issues are ultimately window dressing. It's the rollback of tariffs that is ultimately what's going to drive stock prices higher. An elimination of tariffs on both side will disproportionately benefit China and Chinese equities making them a better play on trade optimism than U.S. stocks.
Also worth considering is that Chinese equities trade at just 10-11 times forward earnings. A-Shares are somewhat more expensive but still a relative bargain.
I'd consider accumulating shares of China ETFs in anticipation of a finished trade deal (disclosure: I own shares of MCHI). Consider holding them through the 2020 election since that will be the prime window for a larger trade deal to get done.
ETFs To Consider
iShares China Large-Cap ETF (FXI)
iShares MSCI China ETF (MCHI)
iShares MSCI China Small-Cap ETF (ECNS)
XTrackers Harvest CSI 300 China A-Shares ETF (ASHR)
WisdomTree China ex-State-Owned Enterprises ETF (CXSE)
If you liked this article, please click the LIKE button or share it on Twitter, Facebook, etc. using the buttons below.
Feel free to leave any comments, questions, or thoughts on the ideas presented here (and sign-up if you haven't already).
Follow me and receive periodic notifications when I post here by clicking the FOLLOW button at the top of the page!