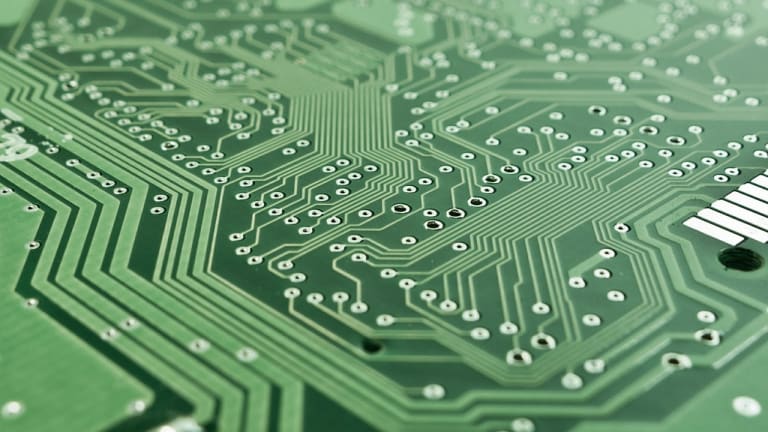 A Big Week For Tech Earnings...And Tech ETFs
Earnings reports from all the tech sector heavyweights arrive this week. With it comes the potential for high volatility.
If you're an investor in tech stocks or tech ETFs, this will be an important week to keep an eye on the markets as tech earnings reports start rolling in full force today.
Yahoo (YHOO), which isn't much more than its stake in Alibaba (BABA) kicks things off reporting Monday after the closing bell. Ironically, analysts won't be watching to hear about Yahoo's earnings at all. They want to hear any news they can regarding Yahoo's still pending merger with Verizon (VZ) and if the deal is still on in its current form (or even on at all) following the company's two major data breaches.
Qualcomm (QCOM) reports after Wednesday's close but that might just be the undercard to the news reported over the weekend that the company is being sued by Apple over royalties. Qualcomm shares are getting pounded Monday (down over 12% as I write this) and Wednesday could provide some clarification of the situation. (As an aside, Qualcomm looks like a great buy low opportunity at these levels and I may pick up a few shares).
On Thursday, the sector's heavyweights arrive. Microsoft (MSFT), Alphabet (GOOG,GOOGL), Intel (INTC) and PayPal (PYPL) all report after the market close.
Microsoft, like many of the big tech names, is focusing on its cloud computing business. The transition has been solid thus far evidenced by the stock's 20% rise in the past year. Results for Azure and Office 365 will be a focus but I'm expecting good results out of Microsoft.
Google is also looking pretty good at this point and has a history of topping expectations and looks poised to do so again. Ad revenue will be the big number but keep an eye on how mobile search and YouTube revenues are doing. Google's development of its self-driving vehicle technology may be the most intriguing piece of the report.
Intel's immediate future is a little more cloudy (no pun intended). The company missed guidance last quarter and announced that they were cutting 12,000 jobs. Intel has struggled to keep pace with the recent semiconductor rally and there's not much indication of any momentum heading into this week's report.
PayPal is looking to set to report a good quarter. Keep an eye on customer and transaction growth. Gains have been in the double digits year over year and signs of continued strong growth could be a catalyst to move the stock higher.
On the ETF front, investors will want to consider using the PowerShares QQQ ETF (QQQ), the Technology Select Sector SPDR ETF (XLK), the iShares U.S. Technology ETF (IYW) and the Vanguard Information Technology ETF (VGT). Nearly 20% of QQQ is dedicated to just Microsoft, Google and Intel. VLK has about 25%, VGT has 24% and IYW is the leader with 27%.
Apple (AAPL) and Amazon (AMZN) both report next week.
If you enjoyed reading this article, please be sure to share it below and subscribe to the site so that you don't miss any updates or new stuff! As always, thank you for taking the time to read!