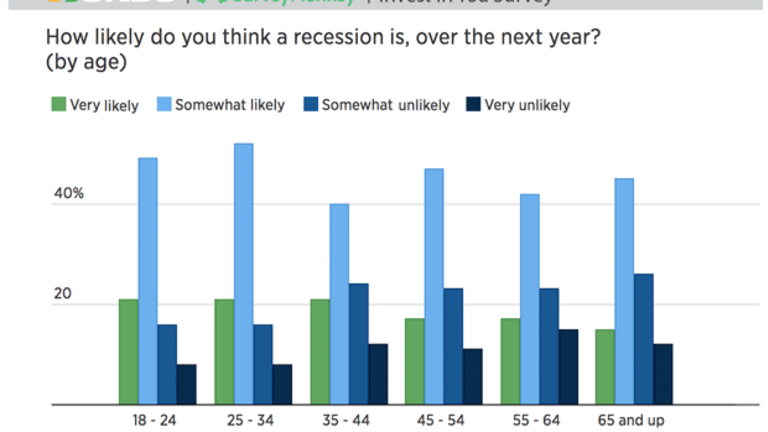 Nearly 2/3 Of Adults Think There Will Be A Recession In The Next Year
Despite record low unemployment, GDP growth of 1-2% and tame inflation, a majority of adults still think that the economy will begin contracting soon.
A recent CNBC study finds that Americans aren't terribly confident in the state of the economy.
The concern is greater among younger people. Roughly 70% of people in the millennial generation think a recession is one the way compared to closer to 60% among retirees.
While the headline numbers still look appealing, there are worries below the surface. The manufacturing industry is deep into contraction, obviously impacted by the trade war and shrinking levels of imports and exports. The economy is still growing but it's largely being driven by trillions of dollars in new debt and large amounts of deficit spending. The Fed has begun adding tens of billions of dollars to its balance sheet in order to support the overnight repo market.
Clearly, this isn't a self-supported economic environment and the notion that this bubble is growing larger isn't being lost on many Americans.
Not surprisingly, the rift is wide depending on political preferences.
About 80% of Democrats, 70% of independents and 45% of Republicans feel a recession is at least somewhat likely.
While consumer spending has been strong, consumer stocks - both discretionary and staples - have been lagging the broader market badly over the past month and a half suggesting that maybe the consumer isn't as strong as we think.
Retail sales data later this week will give us a better sense of how worried we should be.
If you liked this article, please click the LIKE button or share it on Twitter, Facebook, etc. using the buttons below.
Feel free to leave any comments, questions, or thoughts on the ideas presented here (and sign-up if you haven't already).
Follow me and receive periodic notifications when I post here by clicking the FOLLOW button at the top of the page!