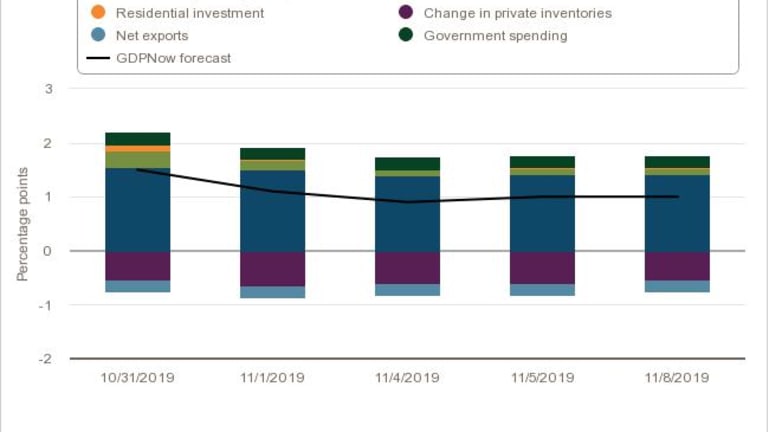 Early Q4 GDP Forecast Comes In At Just 1%
4th quarter GDP growth is expected to again be driven by consumer spending but net exports and changes in inventories will be headwinds.
With the early Q3 GDP reading now in the rearview mirror, the Atlanta Fed has debuted its Q4 GDPNow forecast. The number isn't terribly inspiring.
The first forecast calls for 1% growth. While a grain of salt should be taken with this number since it's so early, the GDPNow forecasts have been pretty in range in the past.
In the second quarter, estimates were in a range of roughly 1.5% to 2.3% although settled right around the 2% mark in the month leading up to the report.
The second quarter was modestly less accurate although directionally correct. It stuck mostly around the 1.5% range before the final reading surprised to the upside.
The breakdown of the Q4 numbers isn't surprising.
| Category | Reading |
| --- | --- |
| Consumer Spending (PCE) | 1.42% |
| Government Spending | 0.23% |
| Non-Residential Fixed Investment | 0.12% |
| Residential Investment | 0.01% |
| Net Exports | -0.23% |
| Change in Private Inventories | -0.53% |
| GDPNow Forecast | 1.0% |
Once again, consumer spending is expected to drive GDP growth. In fact, it's about the only source of growth. Government spending is a minor part of GDP as it has been for some time now while both residential and non-residential investment have ground to a halt.
One of the more encouraging signs I see in this number is the drawdown in inventories. Several quarters ago, GDP growth was in the 2-3% range but a disproportionate part of that growth came from a buildup in inventories i.e. goods produced that hadn't yet been sold. Inventory numbers over time tend to be a zero-sum game and the notion that GDP was being built up by unsold goods raised the potential that GDP growth could slow rapidly once those inventories get worked off. We're probably seeing some of that to a degree in the Q4 estimate but I'm glad that number is declining.
Not exactly a bad looking Q4 but certainly a confirmation that the economy is slowing down.
If you liked this article, please click the LIKE button or share it on Twitter, Facebook, etc. using the buttons below.
Feel free to leave any comments, questions, or thoughts on the ideas presented here (and sign-up if you haven't already).
Follow me and receive periodic notifications when I post here by clicking the FOLLOW button at the top of the page!