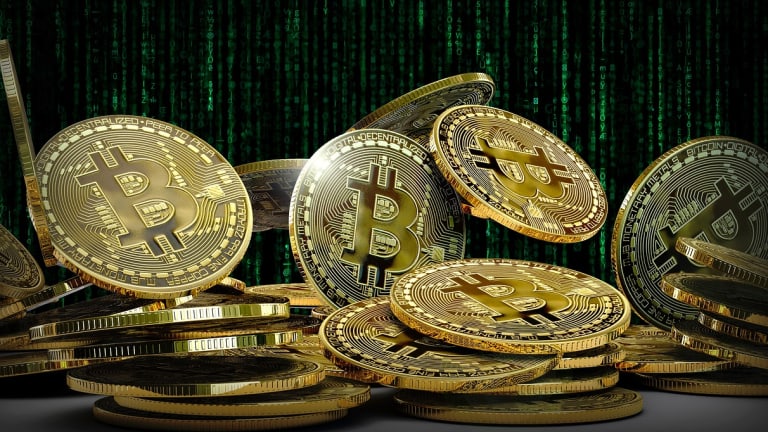 LIVE BLOG: Bitcoin ETF Launch Day Is Here!
The ProShares Bitcoin Strategy ETF (BITO) debuts today and ETF Focus on TheStreet is here to cover it all day!
It's been years in the making, but the first ever bitcoin ETF in the U.S. - the ProShares Bitcoin Strategy ETF (BITO) - will finally launch today!
BITO is already receiving much hype ahead of its debut today and ETF Focus on TheStreet will be covering all the action throughout the day.
Check back often for live updates and the latest all day today!
---
(Refresh your page for live updates)
9:34 CDT: Not a bad day for an ETF that started the day with $20 million!
3:31 CDT: The question now becomes how much of that volume sticks. History suggests that it'll decline pretty quickly.
For comparison, ARKX traded more than 14 million shares on its opening day when it debuted earlier this year. The next day, it traded a little over 7 million shares. A little over a week from its launch, it was trading less than 2 million shares daily. Today, it trades roughly 200,000 shares a day.
There's also the BUZZ ETF. It traded 18 million shares on its first day. On the second day, it traded about 3 million. Within two weeks, it was under 1 million and routinely trades less than 100,000 shares daily today.
Maybe bitcoin will be different since space exploration and social sentiment are kind of niche products. Trading for BITO will drop off quickly, especially with BTFD likely to launch tomorrow and several more bitcoin ETFs lined up to debut. Still, this was an incredible debut by almost any standard.
3:08 CDT: BITO is going to finish the day at $41.89, up 4.7%. Volume was just short of 24 million shares, or $960 million. That makes it the 2nd most heavily-traded ETF first day ever.
1:45 CDT: With about an hour and 15 minutes to go in the trading day, BITO has surpassed $800 million mark in daily volume. That currently puts it in the top 3 most actively-traded ETF debuts ever. It looks like it will easily take over the #2 spot from USSG at $843 million and within a stone's throw from LCTU in the top spot at $1.1 billion.
11:51 CDT: It's interesting to note here that Invesco last night announced they were withdrawing their own bitcoin ETF filing. Based on when it originally filed, the Invesco Bitcoin Strategy ETF could have launched as early as tomorrow.
It was definitely a surprise and naturally leads to the question of why given they were so close. I posed the question to Eric Balchunas last night to see what he thought.
There's been a general acknowledgement that bitcoin futures isn't really the best means of providing crypto exposure within an ETF. Physical bitcoin would be the ideal method given its price would be closely tied to the ETF and you wouldn't have to worry about the cost of rolling futures contracts over every month.
Invesco seemed to suggest that they were going to pass on the bitcoin futures ETF idea and wait for the physical bitcoin ETF to be approved. When that happens, of course, is completely up in the air, but it's unlikely to be anytime soon. BITO is doing very well today, but a spot bitcoin ETF would likely do much better over the longer-term. Perhaps that's what Invesco has in mind.
10:41 CDT: Quite simply, BITO is knocking it out of the park today. As I write this, trading volume today is already over 14 million shares, which translates to more than $500 million in all. Volume has slowed down midday, as most stocks do, and is likely to pick up again near the close. Is a $1 billion trading day in the cards? It's not out of the question.
When all is said and done, BITO is very likely to become at least the 2nd most heavily-traded ETF launch ever. That title currently belongs to the Xtrackers MSCI USA ESG Leaders Equity ETF (USSG), which traded around $840 million. It could end up passing the record of $1.16 billion held by the BlackRock U.S. Carbon Transition Readiness ETF (LCTU). In case you were curious, the ARK Space Exploration & Innovation ETF (ARKX), which launched in March of this year, turned over just short of $300 million in its first day.
One other factor being watched closely is trading spreads. Some feared that the nature of trading cryptocurrency could result in abnormally wide spreads and transaction costs that could harm investors. Those fears were probably always overblown considering we have plenty of examples from other futures-based ETFs for what to expect and those have traded just fine. BITO is also trading just fine with spreads of only about a penny in either direction. In other words, it's trading exactly as it should.
All in all, a very big day for BITO!
10:08 CDT: An excellent thread about the nuts and bolts of how the bitcoin ETF works.
9:55 CDT: In case you were wondering how bitcoin itself was doing today, it's little changed just above the $62,000 level.
9:29 CDT: If you're not familiar with the name Valkyrie as an ETF issuer, you probably should because they're likely to become the 2nd bitcoin ETF issuer.
Valkyrie does not currently have an ETF in their lineup, but they do specialize in the cryptocurrency space. The company was very early on in its bitcoin ETF filing, but wasn't fast enough and was scheduled to be up later in the queue based on the anticipated date when their regulatory review period was up.
Thanks to a heavy push, the company has the 2nd earliest potential launch date and could launch as early as tomorrow. In fact, it sounds like Valkyrie even made a late push to try to debut today alongside BITO.
As of last night, it looked like they might have been successful, but as of now, it looks like it's still scheduled to launch for trading on Wednesday. It may seem like one day isn't a big difference, but the ETF industry is all about first mover advantage.
Take a look at the blockchain ETFs as a prime example. The Amplify Transformational Data Sharing ETF (BLOK) debuted one day ahead of the Siren Nasdaq NextGen Economy ETF (BLCN). Today, BLOK has about $1.3 billion in assets compared to less than $300 million for BLCN. It makes a difference.
Either way, the bottom line is this. BITO debuts today to a lot of fanfare. Valkyrie's bitcoin ETF (which will instantly have the top-notch ticker BTFD) will likely launch tomorrow to much less attention.
9:01 CDT: By the way, if you have any questions or thoughts throughout the day, hit me up on Twitter @David_Dierking or email at contact@etffocus.com.
8:37 CDT: There it goes! BITO is already up around 5% at the open and has traded roughly 4 million shares in just the first few minutes.
8:31 CDT: Apparently, interest in BITO is high. I can't log on to the ProShares website at the moment.
8:23 CDT: BITO is ready to go and has its $20 million in front-month bitcoin futures contracts established. It's priced at $40 per share.
8:07 CDT: In case you want to check out the article I wrote last week when it appeared that a bitcoin ETF launch was imminent, the link is HERE.
7:41 CDT: To provide a little background, you may be wondering how ProShares got to be the first ETF to be approved in a world where there have been dozens of bitcoin ETF filings.
There's some nuance around that answer, but the simple version is that it was the first to file. Yes, there have been bitcoin ETF filings, but all of the prior ones had been either withdrawn and turned away by the SEC since it was ready to approve such a product.
When the Biden administration came in, there was a belief that it would arrive with a more crypto-friendly stance than we had seen in the past. That turned out to be true as SEC chair Gary Gensler expressed an openness to a bitcoin ETF. ProShares and other issuers swooped in with fresh bitcoin ETF filings, but ProShares managed to get theirs in just ahead of the others, including Invesco, Valkyrie and VanEck.
These issuers will soon get their day in the sun (Valkyrie possibly as early as tomorrow), but I'll get to that backstory as the day rolls on.