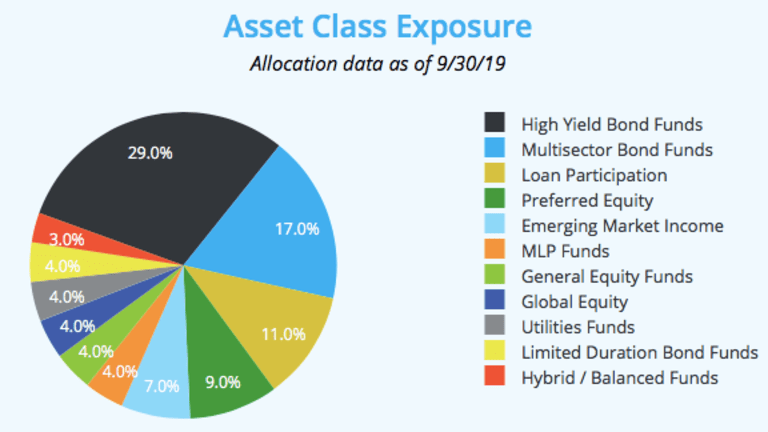 Amplify High Income: 9% Yield; Looks Ready To Rally
Reaching for high yields using closed-end funds is not for the timid but YYY's portfolio composition could be positioned well to rally from here.
Choosing a fund with a yield north of 9-10% is always fraught with a degree of risk. They often wade into risky or illiquid assets or employ leverage or returns of capital in order to achieve their target.
That doesn't mean they can't be taken advantage of. In fact, some look downright attractive.
Take a look at the Amplify High Income ETF (YYY). It's an ETF that invests in a basket of roughly 30 closed-end funds (CEFs) that focus on high yield, emerging markets bonds, preferreds, MLPs and a variety of other income-producing securities. It chooses and weights its components according to yield, discount to NAV and liquidity.
Plain and simple: Investors buy CEFs for their yields. CEFs themselves are usually fairly diversified so investing in YYY offers a degree of risk-reducing diversification on top of that. For investors who don't understand the ins and outs of the CEF space and want the work done for them, funds such as YYY are a great option.
Profile
Before diving into why I find YYY an attractive buy right now, let's break down the fund itself.
Overall, the fund maintains an allocation of 78% bonds and 22% stocks.
As expected, the largest percentage of assets is invested in junk bonds (and deep into the junk category as I'll explain in a moment).
Diversified fixed income funds carry the second highest weighting while typically higher yielding emerging markets bonds (of which about half are rated below-investment grade) preferred/convertible securities and MLPs all hold modest weightings.
Emerging markets bonds are virtually the entire government security allocation in the portfolio while most of the remaining fixed income exposure is junk corporate bonds.
This high yield segment is especially risky as more than 42% of bond assets are rated BB and below. In the current healthy economy, default rates in the BB category are still very small but default risk rises rapidly as you get down to the CCC group.
In the ETF-of-CEFs space, YYY rates as one of the higher yielding options. Its nearly 9% yield is higher than that of peers, the Saba Closed-End Funds ETF (CEFS) and the Invesco CEF Income Composite ETF (PCEF).
That's actually on the lower end of where it's been historically. It peaked at 12% during the industrial recession in 2016 but usually hangs right around the 8-9% range over the past 2 1/2 years.
It's important to note that many CEFs use leverage in order to pay their high yields and the components of YYY are no exception. More than half of the top 10 holdings use leverage with the typical amount around 25-30%.
The focus on high yield bonds and the use of leverage in order to boost yields and returns puts YYY at nearly twice as risky as the typical investment-grade corporate bond fund and about 50% riskier than the SPDR Bloomberg Barclays High Yield Bond ETF (JNK).
YYY is currently trading at a discount to NAV of 7%. That's not an especially high number as discounts of 10% or more are common but it's enough to give the fund some extra return potential while largely staying away from the most unloved CEFs of the market.
Top Holdings, Performance And Risk
The Case For YYY
The short-term bull thesis for YYY lies primarily in three factors:
the market's pivot to a risk-on sentiment supported by strong GDP and unemployment numbers
the Fed's dovish stance
a declining dollar
The high yield market has come sharply back in favor on the belief that the somewhat fragile financial condition of many of these companies will be able to survive as long as economic expansion remains and the Fed is willing to keep interest rates very low allowing these companies continued access to cheap capital. Spreads on much of the high yield segment have been shrinking in recent months supporting the notion that investors remain willing to buy.
The Fed appears to have wrapped up its "mid-cycle adjustment" with respect to the Fed Funds rate but its support of the economy will continue. With its plan to inject tens of billions of dollars into the overnight repo market, the Fed is keeping liquidity high and rates low even though it's indicated that rate cuts are off the table for the foreseeable future. The current Fed policy squarely supports many of YYY's current portfolio holdings.
The dollar will also be an important factor with where YYY heads from here. Prior to the economic data releases from a couple weeks ago, the dollar was beginning to decline as investors rotated out of U.S. large-caps and into other risky assets, such as international equities. That has reversed course a bit in the recent rally but I believe the overall risk/return profile being more attractive in the foreign markets than the U.S. markets will cause the dollar decline to resume, especially if a large trade resolution is reached. That would be bullish for the roughly 25% of fund assets that are invested overseas.
How To Play This In Your Portfolio
For most investors, YYY could be a good opportunity to boost the yield in your portfolio but with no more than, say, 5% of assets. There is a large community of investors who invest almost exclusively in CEFs. For those folks, they may prefer a larger allocation.
CEFs deserve to be watched closely in your portfolio since sentiment shifts and premiums/discounts can expand or shrink quickly. If you're less familiar with the CEF space and/or want someone to manage your CEF exposure for you, YYY is a solid choice.
The overall economic backdrop remains favorable for risky assets. I expect that the financial markets will continue to be favorable over the next several months at least at which point holding YYY in your portfolio should be reexamined.
If you liked this article, please click the LIKE button or share it on Twitter, Facebook, etc. using the buttons below.
Feel free to leave any comments, questions, or thoughts on the ideas presented here (and sign-up if you haven't already).
Follow me and receive periodic notifications when I post here by clicking the FOLLOW button at the top of the page!