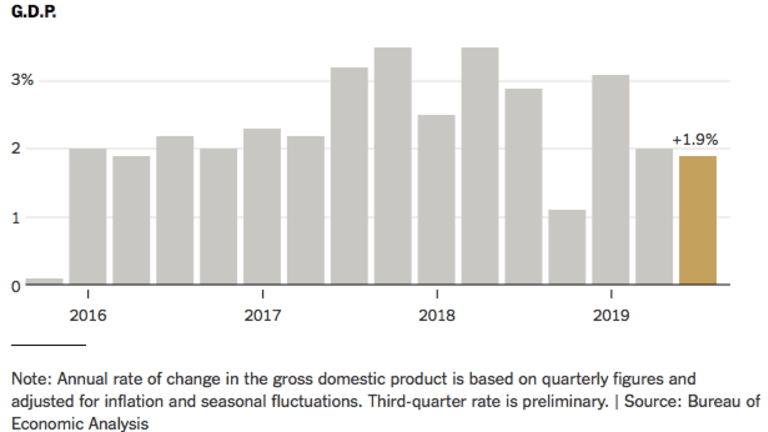 Q3 GDP Comes In Stronger Than Expected; Time To Revisit TIPS
With GDP coming in above expectations and the Fed cutting interest rates, inflation could make a return. Time to give TIPS another look for your portfolio.
The range of GDP estimates was pretty wide with Oxford Economics offering the most bearish forecast.
While the headline number offered optimism, the details of the report were more of a mixed bag. There were both positives and negatives depending on your perspective.
Let's break it down.
Good: The Economy Isn't Slowing As Fast As Expected
The big fear coming into this report was that the global economic slowdown that has hurt so many economies around the world was finally going to spill over into the United States. So far, though, that hasn't happened. GDP is slowing but not nearly to the degree that indicates a recession is imminent. The trade war has impacted the economy but it hasn't crippled it.
Bad: Business Investment Is Getting Worse
Capex by businesses fell at an annualized 3% rate in Q3 after falling 1% in Q2.
This is the worst number since 2015 and second-worst since the financial crisis. Consumers may still feel like they're in good shape but businesses are clearly cutting back as the trade war drags on.
Good: Consumer Spending Remains Strong...
Consumer spending accounts for roughly 2/3 of GDP and it didn't disappoint. Real consumer spending rose at a 2.9% annualized clip, not quite as strong as Q2's 4.6% reading but strong nonetheless.
Low unemployment, plentiful jobs and strong consumer sentiment all seem to be offsetting any trade war concerns over higher prices.
Bad: ...But Consumers Are Borrowing Money In Order To Spend
Here's the catch. Consumers aren't spending money they have.
Total credit card debt is back at pre-financial crisis levels. Mortgage debt is up. Student loan debt is up. Auto loan debt is up.
It'd be inaccurate to say the consumer is strong. It's simply consumer spending that is strong.
Is Inflation On The Rise?
Most pundits will pay attention either to consumer spending as an indicator that the economy is still in good shape or the contracting business spending  that shows that recession is still a concern.
Here's my big worry right now: inflation
The argument here is pretty simple. The Fed is doing all it can to keep the cheap money flowing by lowering interest rates and injecting tens of billions of dollars into the overnight market. If you couple all of that money being pumped into the economy with a consumer that's willing to spend, spend, spend with money they don't even have, that's a recipe for higher prices.
The U.S. inflation rate is still a modest 1.7% but the core rate, which excludes food and energy, is at 2.4%.
That's well above the Fed's 2% target and it's been rising steadily over the past several months. I imagine the Fed will sit tight over the next couple of meetings but I can envision a scenario here in which the inflation rate starts creeping towards 3% and that could be trouble.
How To Play This In Your Portfolio
They haven't been needed for quite a while but it's time to reconsider inflation-protected bonds. They pay insignificant yields but that's not the point. If inflation starts rising, the yields on these bonds will rise with it helping to offset some of the risk that an inflationary market will no doubt experience.
Since the principal value of an inflation-protected bond rises as inflation rises, it's a great way to produce a positive return while most other assets
ETFs To Consider
Schwab U.S. TIPS ETF (SCHP)
iShares TIPS Bond ETF (TIP)
Vanguard Short-Term Inflation-Protected Securities ETF (VTIP)
SPDR Portfolio TIPS ETF (SPIP)
iShares 0-5 Year TIPS Bond ETF (STIP)
If you liked this article, please click the LIKE button or share it on Twitter, Facebook, etc. using the buttons below.
Feel free to leave any comments, questions, or thoughts on the ideas presented here (and sign-up if you haven't already).
Follow me and receive periodic notifications when I post here by clicking the FOLLOW button at the top of the page!