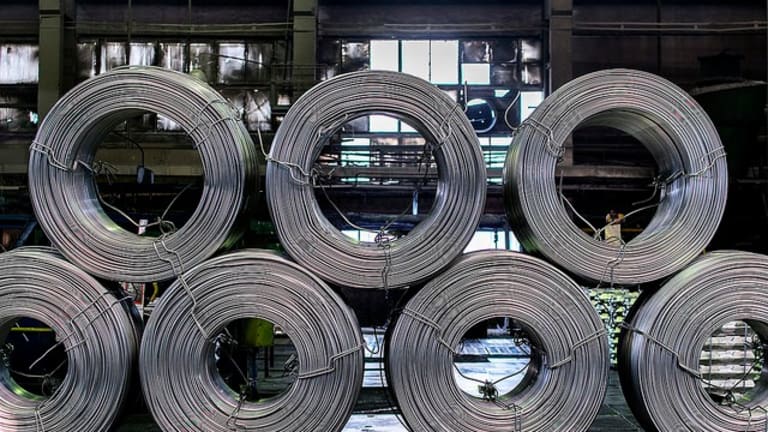 Section 232 Trade Protectionism: Bad for Business, Bad for America
America may soon impose high tariffs and low quotas to curb imports of steel and aluminum. Expect collateral damage.
By Richard Smith
The United States was built on steel -- almost literally.
When U.S. Steel was formed in 1901, it instantly became the largest corporation in the world. 117 years later, steel remains an important part of the U.S. economy. In fact, if you widen the lens, the Bureau of Labor Statistics estimates that "primary metal manufacturing" in the U.S. -- encompassing not only steel, but aluminum and other metals, too -- employs more than 376,000 people. On the face of it, then, it might not seem surprising that President Donald Trump is considering a series of trade restrictions to protect steelmaking and aluminum production in the U.S.
But that doesn't mean he would be right to do so.
Invoking Section 232
Under Section 232 of the U.S. Trade Expansion Act of 1962, the Secretary of Commerce has the power to investigate in cases when foreign imports could potentially endanger national security -- and to recommend that the president institute protectionist measures to safeguard that security.
On 16 February, Secretary of Commerce Wilbur Ross concluded one such investigation into imports of steel and aluminum, and presented President Trump with a 262-page report recommending "immediate action by adjusting the level of imports [of these metals] through quotas or tariffs."
Regarding steel imports, Sec. Ross recommended imposing:
· at least a 24% tariff on all U.S. steel imports; or
· a quota capping steel imports from all countries at 63% of their 2017 levels; or
· a combination -- at least a 53% tariff on imports of steel from 12 countries, combined with a quota capping steel imports from other nations at 2017 levels.
Regarding aluminum, the Secretary recommended:
· at least a 7.7% tariff on all U.S. aluminum imports; or
· a quota capping aluminum imports from all countries at 86.7% of their 2017 levels; or
· a combination -- at least a 23.6% tariff on imports of aluminum from China and four other countries, combined with a quota capping aluminum imports from other countries at their 2017 levels.
The Secretary's stated goal in imposing these restrictions is to raise U.S. factory utilization to 80%, up from current levels of 73% for steel and 48% for aluminum. While trade hawks might argue that blocking foreign imports of steel and aluminum will bring back US steel mills and aluminum smelters to their glory days, this is nothing but a pipe dream -- and one with dangerous consequences for the wider economy.
To begin with, Section 232 does not address the causes behind declining factory utilization. Most US smelters have shut their doors more due to endogenous factors such as high electricity costs than to foreign competition. This explains why the Defense Department urged Commerce to proceed with caution, saying the government shouldn't enact across-the-board restrictions on foreign metals imports, but instead use targeted tariffs to address the real culprit -- Chinese overcapacity.
And therein lies the rub. In its current form, Section 232 recommendations do precious little to tackle Chinese overproduction of primary aluminum, a fact highlighted by both the Aluminum Association and the [American Extruders Council](http://c.ymcdn.com/sites/www.aec.org/resource/resmgr/fair_trade/Draft232HillLtrHouse-Final(7.pdf). Both umbrella groups point out that Beijing decided years ago to restrict primary aluminum exports by applying high export tariffs -- with the result that no Chinese primary aluminum is exported to the U.S. This export tariff led, in turn, to the overproduction of semi-finished aluminum products (such as extrusions) within China, which were then dumped by Chinese producers onto world markets, causing much economic pain to American producers.
By slapping import tariffs on primary aluminum imports, Trump will not even scratch the surface of the problem. Even if all U.S. smelters are restarted and used at 100% capacity, the country would still require more than 3 million tons of primary aluminum a year to satisfy current consumption rates. And due to the resulting higher input costs, American producers of secondary aluminum will see their competitive advantage on world markets erased. The bitter truth is that Chinese producers would then be even more to likely to churn out extrusions.
What's more, at present, all of the major, publicly-traded U.S. steelmakers are profitable, with some boasting operating profit margins approaching or even exceeding 10%. Likewise, aluminum companies such as Alcoa and Century Aluminum show positive GAAP net earnings over the past 12 months, during which China has been enforcing cuts in steel and aluminum production to curb pollution. There is no reason to expect this to change any time soon. According to data from Trading Economics, prices of both commodity steel and aluminum have been marching higher since as far back as early 2016.
By law, the president has until mid-April to decide on whether (and which) protections to implement. While the question of what measures the White House will take is still up in the air, other countries are already rushing to threaten retaliation if their exports are unfairly hit.
While any U.S. exporter could eventually be targeted by such retaliatory tariffs, the specific retaliations being discussed pose a particular risk to U.S. companies -- users of primary and secondary metals, the import of which President Trump may restrict.
To cite two specific examples, the EU is threatening tariffs on motorcycles, and China is threatening tariffs on airplanes. Not surprisingly, both motorcycles and airplanes are built with steel and aluminum components. Whether the Trump administration raises the cost of these parts directly by imposing tariffs on steel and aluminum imports, or indirectly by imposing quotas (restricting supply, and thereby enabling U.S. producers to charge more for domestically-produced metals), either way, this raises input costs for companies like Harley-Davidson and Boeing.
At the same time, if the Trump administration provokes a backlash by U.S. trading partners, pushing them to impose their own tariffs, this would result in higher prices for the products that Harley-Davidson and Boeing sell abroad. This would decrease their attractiveness to foreign buyers, potentially forcing these companies to lower their prices to preserve sales.
As a result, these firms face a perfect storm of trade protectionism, in which their profit margins will be squeezed by higher input costs, as well as the inability to charge higher prices on the output side -- all through no fault of their own, and indeed, against these companies' wishes.