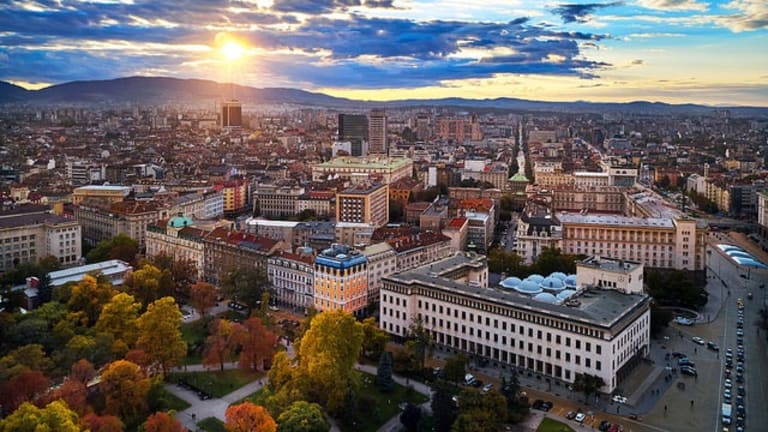 Bulgaria's Odd Approach to Fixing Energy Market Woes
As Bulgaria assumes the EU Council presidency, its leaders are seeking support - and money - in some interesting places.
By Richard Smith
Bulgaria assuming the presidency of the Council of the European Union on New Year's Day 2018, in addition to representing a historic first, was also supposed to be a milestone for Europe. Here was one of the Union's newest, poorest members taking the reins of the Council, heralding the successful (if imperfect) integration of eastern and western European member states. Unfortunately, Bulgaria's actions in the months since suggest East and West have a long road still to travel – at least when it comes to energy policy.
In unexpected back to back trips, Bulgaria's top officials are traveling to Russia to solicit help from Vladimir Putin. Last week, Bulgarian president Rumen Radev visited the Russian president in Sochi to "restore dialogue between our countries to the highest possible level," as he put it. In concrete terms, that means exploring a Russian role in restarting the stalled Belene nuclear power plant project, not to mention turning Bulgaria into a hub for Russian natural gas exports. Bulgarian prime minister Boyko Borisov starts his own visit to Moscow on May 30th, presumably to continue these talks. The delegation oddly does not include Bulgaria's minister of foreign affairs, a signal that the main focus of the meetings will be Russia's role in Bulgaria's energy sector.
The timing of these visits is disconcerting. Sparking fears Sofia is decidedly shifting eastwards, shortly before the meetings, the government announced plans to terminate two long-term power purchase agreements (PPAs) with thermal power plants owned by America's AES Corp. and ContourGlobal. The two plants are important pillars of Bulgaria's energy infrastructure and the Balkan country's energy security.
These bilaterals between Putin and Bulgaria's leaders come less than two months after nearly two dozen European governments expelled Russian diplomats to protest Russia's role in poisoning of a former intelligence officer in England (expulsions Bulgaria did not participate in). Bulgaria's approach to Russia also cuts against the grain of the very EU energy policy it is tasked with pursuing, namely the decade-long effort to reduceEurope's dependence on Russian natural gas, rather than increase it. Bulgaria, it should be noted, depends on Russian imports for essentially all its natural gas needs.
Bulgarian leaders are competing against each other to justify their warmer ties with Moscow on historical and cultural grounds, but Sofia is apparently just as eager to court Chinese investment in key projects such as the Belene nuclear facility. In furtherance of China's "Balkan Belt & Road" project, state-owned China National Nuclear Corp (CNNC) has expressed interest in helping to get the Belene project back on the road to completion. Bulgaria's interest in seeking financial assistance from Beijing is raising just as many eyebrows in Brussels as the recent visits to Russia. Europe already fears China may be acquiring excessive influence in southeastern Europe. Much of the recent push to bring the non-EU Western Balkan countries into the fold – an effort ironically being spearheaded by Bulgaria – stems from a desire to counter precisely these external interests.
So what game is Bulgaria playing here?
Bulgaria's energy market is, simply put, a mess. Heavily dependent upon polluting and obsolete (over 40 years old) coal plants to produce need electricity, Bulgaria subsidizes these plants to keep them solvent. Sofia characterizes its overtures to Russia and China as part of a grander plan to liberalize its energy markets and increase the percentage of green energy in its energy mix. These are, after all, objectives that both the World Bank and the EU itself have urged Bulgaria to pursue.
However, the government's current approach seems to penalize Western partners while soliciting problematic arrangements with Moscow and Beijing. Sofia argues that scrapping the PPA with AES and ContourGlobal are moves towards liberalization, but the two plants currently supply 20% of Bulgaria's electric power needs. While they sell electricity to the state-controlled NEK, the arrangement does have the benefit of making sure the facilities are available to produce electricity when needed to ensure the security of the country's energy supply. Liberalization is a laudable goal, but the way Bulgaria is going about it is curious – punishing Western utilities that have been working to improve the efficiency of their energy production, all while spending $1.5 billion in subsidies to prop up state-owned Bulgarian coal plants.
When you consider that, according to EU data, Bulgarians use roughly four times the energy consumed per capita in Europe as a whole, a greater focus on improving energy efficiency might yield better results. Concentrating on internal energy market reform wouldn't just help shore up the finances at NEK and save Bulgarian consumers money. It would also offer the government a plan of action that doesn't require antagonizing its most important partners.