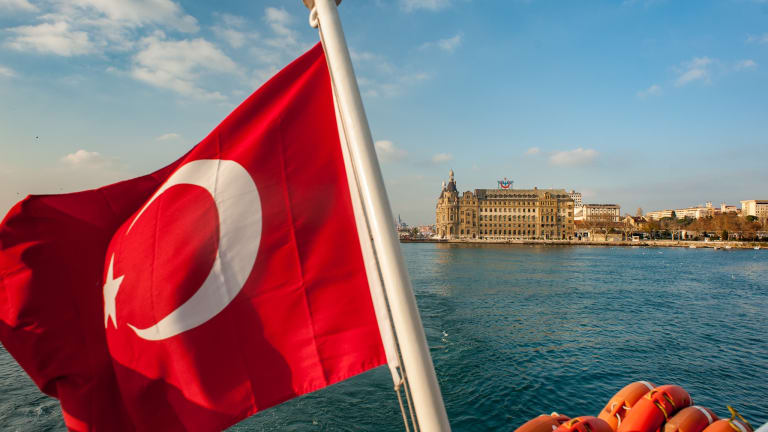 Why Turkey's Economic Recovery is Not Sustainable
There are good reasons why Turkey's economic catch-up" with advanced economies has slowed since 2008.
By Dr. Leif Rosenberger, Former Professor of Economics, US Army War College
At first glance, Turkey's economic performance appears impressive. Turkey's strong macroeconomic policies dramatically improved socio-economic outcomes since the 2001 financial crisis. The Organization for Economic Co-operation and Development (OECD) predicted in 2014 that Turkey would enjoy the fastest GDP growth (4.9%) among its 35 members during the 2015-2025 time period.
But in economics appearances can be deceiving. There are good reasons why Turkey's economic catch-up" with advanced economies has slowed since 2008. The rise of Isis and trouble with Russia have hurt tourism and weakened Turkey's economic performance. A failed coup attempt and President Recep Tayyip Erdogan's sweeping reprisals have scared off foreign investors. To offset weak capital inflow, Erdogan has flooded the Turkish economy with domestic credit in order to boost short term economic growth prior to next presidential election in November 2019. In the process, Erdogan has failed to implement the kind of structural reforms Turkey desperately needs to generate a stronger medium term economic performance. More importantly, his blind eye to domestic and foreign financial imbalances makes Turkey increasingly vulnerable to financial turbulence. Therefore, Turkey's economic recovery is not sustainable.
Export Success. Not long ago, Turkey's economy was on a roll. Turkey's GDP grew at 9% a year in 2010 and 2011. Exports were a bright spot and accounted for all of Turkey's GDP growth in 2012. Turkey successfully diversified its exports from traditional EU markets towards the Mideast, the Caucasus and North Africa region. In fact, Turkey's share of exports to this increasingly important trading region more than doubled from 16% in 2004 to 34% in 2012. This export success also helped to reduce Turkey's financial vulnerabilities. Strong exports and weak imports brought the current account deficit down as a percentage of GDP from 9.7% in 2010-2011 to 6.1% by the end of 2012. Inflation also fell from 10.4% in 2011 to 6.2% by the end of 2012. The credit rating agencies upgraded Turkish government bonds to investment grade in 2012.
Downturn. Turkey attributed this economic success to a "zero problems with neighbors" policy. Cordial relations with Syria were a showpiece of this policy. Turkey also enjoyed soaring trade with Iraq. In fact, Iraq was Turkey's second biggest export destination in 2012. But before long, "zero problems with neighbors" turned into a region in flames. Turkey's cordial relations with Syria gave way to a negative environment of a bitter Syrian civil war and the rise of the Islamic State of Iraq and Syria or (ISIS).
Faltering Exports. ISIS controlled areas in Syria and Iraq shut off Turkey's traditional export routes and forced it into time-consuming and costly circuitous alternatives. These circuitous routes added over a thousand extra miles to the journey and cost an extra $2,000 per truck. Turkey's exports to Iraq fell 45% in July 2014 compared to same period in July 2013. Turkey also paid a high price for opposing the Gulf-backed military coup in Egypt against the Moslem Brotherhood. Turkey's exports to Egypt, Saudi Arabia & UAE fell 11.6%, 15.7% and 5.9% respectively during the first 7 months of 2014. Turkey's exports to Western Europe also faltered. The EU recovery faded and countries like Germany and Italy started to battle economic contraction.
Alarm Bell. But appearances can be deceiving. Domestic led growth caused the external financial requirement to soar once more. Inflation rose to an unacceptably high 9% and a combination of weak exports and a 10% rise in imports caused the current account to rise to almost 8% of GDP.
Stop-Gap Easy Money at Fed. When a country like Turkey runs such a huge current account deficit, it must somehow attract an equally huge amount of net capital inflow in the capital account of its balance of payments. When the Fed had a loose monetary policy to help embattled countries boost demand after the global financial crisis, there was plenty of global credit available for Turkey to meet its large current account deficit as long as the Fed policy did not tighten. But if the Fed ever did tighten its loose monetary policy, Turkey would be vulnerable because its high current account deficit was financed mostly by short-term, foreign "hot money," with very little contribution from safer, more durable foreign direct investment (FDI).
Fed Tightens. That negative scenario started to happen in late May 2013. Fears that the Fed would taper its bond buying program caused a large swing in market sentiment in emerging markets. A lower global appetite for emerging market assets exposed Turkey's large external financing gap and short term funding needs. Investors attacked the Turkish lira which fell 10% against the euro-dollar basket. Turkish stock prices fell 20%. Political demonstrations added to the uncertainty. To keep attracting capital inflow to finance its external imbalance, Turkey's central bank more than doubled its core interest rates from 4.5% to 10% on 28 January 2014. Not surprisingly, Turkey's GDP growth rapidly de-accelerated from 9% in 2010- 2011 to only 2.1% in 2nd quarter of 2014. Unemployment rose from 9.1% at the end of 2013 to 9.9% in June 2014. Recurring bouts of lira weakness pushed inflation to 9.5% in August 2014.
During 2015, there were lots of other headwinds facing the Turkish economy. Turkey's exports fell to Russia which was struggling with low oil prices as well as to a Mideast in flames. Like other emerging economies, Turkey faced capital outflow due to Fed tightening. On the domestic front, investors stayed on the sidelines due to the political uncertainty surrounding two elections in Turkey. To make matters worse, terrorist attacks were driving away tourism, a key driver of the economy.
Unbalanced Growth. Given all these headwinds facing the economy, Turkey opted to let domestic demand drive the economic growth in 2015. At first glance, this seemed like a good idea. Surging private consumption filled the gap in GDP. In fact, a resilient Turkish economy enjoyed 4% GDP growth in 2015.
Unfortunately, Turkey pursued unbalanced growth. The flip side of high private consumption at home is a low private savings rate. In fact, there was rising private sector and external indebtedness. In other words, Turkey was living beyond its means.
IMF notes that this excessive private consumption creates two problems. First, there is low investment money inside Turkey to support high job creating growth. Second, there is a subsequent need to tap foreign savings to fund whatever investment takes place in Turkey. This macroeconomic imbalance turns into a high current account deficit in the balance of payments that Turkey must finance. If we disregard the effect of falling oil prices, the high current account deficit is potentially just as dangerous as cited earlier, especially if oil prices were to rise again. As a result, a high external debt and its refinancing are serious financial vulnerabilities for Turkey. Foreign debt amounts to 52% of GDP while gross financing needs are about 25% of GDP every year. This dismal situation makes Turkey extremely vulnerable to external shocks and a potential balance of payments crisis.
Following a strong performance in GDP growth in 2015, Turkey's economy slowed in 2016. In addition to the geopolitical tensions and other external shocks cited above, a number of unexpected domestic shocks slammed Turkey's economy. The most dramatic was a failed coup d'état against Turkish President Erdogan in July 2016. In response, Erdogan imposed a state of emergency. Over 140,000 public employees were suspended of dismissed. 40,000 people were detained and over 4,000 companies and institutions with assets close to $4 billion were shut down and taken over by the state. The political instability, social polarization and economic uncertainty resulting from the failed coup attempt disrupted economic activity. The economy suffered negative growth in 3 Q2016 (the quarter after the coup attempt). The chaotic events caused unemployment to rise to over 13% and business confidence and foreign investment to dry up. Security concerns and Russian sanctions reduced the number of tourists by a quarter from Europe and by over two thirds from Russia. A year after the coup attempt, the Turkish lira was the world's worst performing currency outside frontier markets. The lira lost 20% of its value against the US dollar. The fall of the lira triggered a high level of Turkish corporate debt in US dollars. The run on the lira also drove inflation to a 9 year high. In response, Moody's cut Turkey's sovereign debt rating.
President Erdogan's fiscal expansion and rising private consumption helped him in three ways. First, GDP bounced back from contraction in 3Q2016 to 5% GDP growth in 1Q2017. Second, this growth spurt helped Erdogan win a narrow victory in the April 2017 referendum that gave him sweeping new executive powers. Third, the rise in GDP boosted Turkey's stock market. It rose 33% in the first half of 2017 and 45% since the coup attempt. The Istanbul stock market posted its best gains since 2009 for January-July 2017 amid a surge in state-backed lending and one of the five biggest gains globally in 2017.
That said, Turkey's economy desperately needs bullish foreign investors to keep this unbalanced economy afloat. Given Turkey's impressive economic bounce-back in 1Q 2017, foreign investors are no doubt asking two questions: How financially stable is the economy? How sustainable is the 5% growth we've seen in 1Q 2017? As a result of his new executive power, Asli Kandemir at Bloomberg notes that President Erdogan is risking Turkey's future financial stability by flooding Turkey's economy with credit. Erdogan has expanded state guarantees to rush $50 billion in lira loans to almost 300,000 companies with little or no transparency over how the money is spent. This will swell a budget deficit that's already projected to be the highest since 2010. It's also threatening to prolong double digit inflation.
In the process, Erdogan is bypassing the structural supply side constraints of low savings rates, poor education and skill shortages. He is also shielding inefficient industries with some of the most protectionist policies in emerging markets. This supply side neglect together with debt buildup risks making Turkey even more vulnerable to external shocks and a balance of payments crisis. Most importantly, Turkey's high current account deficit makes it financially vulnerable in the medium term. Turkey's current account deficit as a percentage of GDP is set to be the highest of the 20 largest economies in the world in 2017. Given these shaky financials, expect Istanbul stocks to plummet in value once it becomes clear that Erdogan has randomly selected 300,000 companies to receive loans with no clue about their competitiveness or ability to repay the loans. In short, expect financial turmoil ahead.
Core Problem. It's important to understand that Turkey's external financial vulnerabilities start at home. Turkey's domestic savings rate has fallen dramatically over the last 15 years. Private savings, in particular, have fallen significantly. The IMF calculates that Turkey needs investment close to 21% of GDP in order for GDP to grow 4%. Since Turkey's domestic savings rate is only 14% of GDP, Turkey has to fill this savings gap with an external financing requirement of 7% of GDP. Unfortunately, this capital is only available in the form of volatile, short term "hot money," which is difficult to sustain over time. Turkey's gross external financing requirement is an alarmingly high 25% of GDP per year.
Need for Structural Reforms. Turkey also needs to implement key structural reforms in order to make its economy more competitive. These include boosting human capital, strengthening the business environment and making labor markets more flexible. Reducing Turkey's external deficit and making its economy more competitive are interconnected. Raising domestic savings, maintaining a strong monetary anchor and ensuring that structural reforms result in more foreign direct investment which in turn are all critical components that will stabilize Turkey's economy. On the domestic front, President Erdogan's anti-democratic tendencies and a perceived weakening of central bank independence have damaged investor confidence since mid-December 2013. As a result, Turkey is still vulnerable to capital flight.
African Links. Finally, Turkey's geographic location has contributed to an identity crisis in recent years. While it is a member of NATO, Turkey's economic weaknesses has kept it out of membership in the European Union. That cultural frustration has caused Turkey to look elsewhere for acceptance. One such place has been Africa.
Frederico Donelli divides Turkey's opening to Africa into two distinct periods. First, Turkey's opening to Africa began with the "Year of Africa in 2005. Turkey changed its perception of Africa from a "weak and distant place" to a place full of potential connections and largely economic opportunities. Second, Turkey assumed more of a geopolitical role when it got involved in the Somali crisis in 2011. Since then Turkey's African focus has been the Horn of Africa, where Turkey has played an increasing political and military role. During this second African period, Turkey has become part of the "greater" Middle East, a broader region of increasing sectarianism with the rising risk of geopolitical and religious conflicts spilling over between the Middle East and Africa.
​
Photo courtesy of Casal Partiu
​
Dr. Leif Rosenberger retired from the US government in March of 2016. He was a Full Professor of Economics at the US Army War College and held the General Douglas MacArthur Academic Chair of Research in the Strategic Studies Institute. He was also the Chief Economist at both the US Pacific Command and the US Central Command for almost two decades. He can be reached atleifrosy@yahoo.com