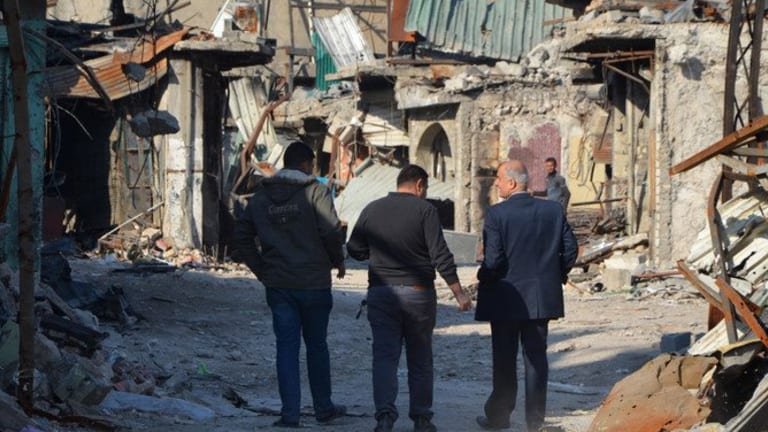 Trump's Economic Coercion Backfires in Iraq
Trump's counterproductive pressure on Iraq to stop gas imports from Iran antagonizes Baghdad. Shia Iraq pivots to Iran.
​
Trump's Economic Coercion Backfires in Iraq
Leif Rosenberger Chief Economist ACERTAS
Until recently, Baghdad viewed Iranian natural gas as the easiest way to fill its widening gap in electricity. In 2013, Iraq signed a deal to import 25 million cubic meters (mcm) per day of Iranian natural gas – 9.1 bcm annually – to feed three Baghdad-area power plants. But now the US is putting pressure on Iraq to get onboard with sanctions against Iran as soon as possible or else run afoul of U.S. sanctions.
Needless to say, friends don't treat friends this way. Trump's counterproductive pressure on Iraq to stop its gas imports from Iran is antagonizing Baghdad. Shia Iraq is trying to turn away from the US bully and towards its more reliable fellow Shia neighbor in Iran.
But it won't be an easy pivot. Iraq has offered to set up a barter-like system that would give Iran credit for its gas exports that can be exchanged directly for Iraqi goods. However, the bilateral trade relationship skews heavily toward Iranian exports. There are few Iraqi goods that Iran would desire besides agricultural exports, but Iraqis consume most of what their country produces, thus leaving little for export.
Things didn't used to be this difficult for Baghdad. For years high oil prices enabled Iraq's economy to muddle through. But in 2014 low oil prices and the rise of ISIS was a wake-up call that shattered Iraq's complacency. Iraq can no longer be a "one trick pony" oil economy. Iraq must diversify. Will Trump help? Nope.
Reconstruction Challenge
Trump is turning his back on Iraq's daunting reconstruction needs. Trump says America is no longer doing "nation building" overseas on his watch. Unfortunately, this penny wise, dollar foolish "America First" economic nationalism is ill-advised. Hans Binnendijk and Stuart Johnson from NDU persuasively argue that there has been a widening gap between a) scale-down of US led combat operations and b) stabilization and reconstruction operations. Bad things happened in this gap in Iraq, like the rise of ISIS. News flash to Trump: To avoid another cycle of winning the war in Iraq and losing the peace on his watch, it's arguably time to wake up and get serious about the daunting challenge of reconstruction in Iraq.
In many ways, Iraq has still not come to grips with the scale of the reconstruction challenge. It has seriously underestimated the cost of rebuilding. Iraq cannot just rebuild the infrastructure which ISIS destroyed. Iraq must rebuild the infrastructure left in tatters by almost 4 decades of conflict.
Lehigh Professor Frank Gunter notes that Iraq must simultaneously rebuild its soft infrastructure – its institutions and process – and its hard infrastructure – its actual physical public works. Iraq must also somehow rebalance the demand for replacing its hard infrastructure with the supply of resources for soft infrastructure. On the hard infrastructure side, Iraq must expand its oil industry as well as replace its non-oil sector which has been distorted by mismanagement and market failure.
On the soft infrastructure side, Iraq is not only limited by insufficient finances, it is constrained by a severe shortage of skilled labor and managers, inefficient state owned enterprises (SOEs) and a hostile regulatory environment towards Iraq's private sector. Rebuilding the hard infrastructure will be extremely difficult without reforms to implement this extensive institutional change. In addition, corruption is pervasive in Iraq's hard and soft infrastructure.
On the demand side, Iraq's proven oil and gas reserves are huge and will last over a century. But limited capacity of oil pipelines as well as not enough storage facilities and moorings for oil tankers are all binding constraints on increasing Iraqi oil exports in the short run. In fact, Iraqi attempts to rapidly expand the oil infrastructure has led to severe bottlenecks as sharply increased equipment and supplies overwhelmed existing port facilities.
Water Problems
To make matters worse, Iraq's upstream northern neighbors are curbing water flow to Iraq. This severe water shortage may well be a show stopper because 1.5 barrels of water must be injected into every barrel of oil. A related issue is the disposal of contaminated water. The contaminated water will pollute river or ground water if it is dumped. Iraq needs expensive new facilities to deal with wastewater disposal.
Iraq also has a natural gas problem. 60% of the gas is flared instead of captured. This shoddy practice is wasteful and dangerous environmentally. Basra Gas firm only captured 50% of gas since 2013. Iraq needs to invest more in building the infrastructure to capture all the natural gas.
Power Crisis
Iraq's electricity sector is in even worse shape and constantly in crisis. In fact, the gap between supply and demand is greater than ever, with black outs and brown outs common occurrences. The average Iraqi only gets 6 to 8 hours of electricity each day. Many Iraqis get much less.
Iraqi power was struggling with aging and inefficient systems even before the rise of ISIS. But ISIS is responsible for $7 billion in damages to Iraq's power systems. Due to ISIS violence, 40% of electricity in the summer may be dumped because of insufficient capacity on the grid.
Poorly educated and trained workers and managers provide poor maintenance which results in outages. Only 5% are planned outages. 13% are unplanned outages and 10% are for shortages of fuel or sub-standard fuel. In Iraq, unexpected drops in production and distribution of power are excessive. Electrical demand in the summer has reached 23,000 megawatts, but Iraq can only deliver 15,900 megawatts – a 30% gap.
There are 4 options for reducing the gap between supply and demand for electricity. If money was not a problem, increasing grid transmission capacity and investing in more power plants would be attractive politically. If getting political support was not an issue, increasing the price of electricity would clear the market and be attractive economically. The trick is to do something economically decisive while maintaining political stability. That's not easy.
Failing Soviet Legacy
The 45 year legacy of Soviet/Saddam Hussein socialism has created financially dysfunctional subsidies. In 2017 collection rates for electricity stood at just 28%. Even if customers actually paid their bills, power is being sold at a loss. Electricity rates are set too low to recover generation, transmission and distribution costs. The World Bank says between collection rates and poor infrastructure, the losses in the electrical sector reduce Iraq's annual GDP by 5.2%.
The Soviet/Saddam Hussein socialist legacy resulted in low priority for maintenance and improvement of existing electrical systems and bias for costly, unnecessary new systems that provide opportunity for corruption. (Marx says productive labor produces goods, not services).
At first glance, one could argue that Iraq does not have a shortage of capacity; rather it has an incredibly inefficient in its use of existing capacity. If Iraq was able to increase the efficiency of existing generation, then a substantial increase in usable electrical supply would be possible without spending a massive $25 billion for new infrastructure. If grid operators had the political will to minimize unscheduled maintenance outages and—with the cooperation of the Ministry of Oil—ensure that the correct standard fuel was available in sufficient quantities for existing generators, then the existing electrical infrastructure could produce an additional 20-30% megawatts closing most of the gap between demand and supply without the addition of more electricity generation capacity.
ut political realities make this option to balance the supply and demand for electricity unlikely to be chosen. With no good choices, Iraq has had to maintain its focus on generating as much electricity as possible. That means setting aside a large chunk of the federal budget to provide investment and transfers to the power sector to make up for revenue shortfalls. Therefore, Baghdad favors spending $25 billion building new power plants – or 7% of total government spending. At this point, Iraq's electricity sector has to swim at full speed just to tread water.
In addition to the demand for hard infrastructure, it's important to look at what determines the supply of infrastructure investment. After 2014 there was a shortage of finance because of the double whammy of oil prices and higher defense spending due to the rise of ISIS. When oil export revenues decline, or security expenditures increase, Baghdad makes sharp cuts in government infrastructure investment. That needs to change.
In addition, there are at least 4 other institutional weaknesses that will make it difficult to supply the resources necessary to rebuild Iraq. These institutional weaknesses of soft infrastructure include: a lack of skilled managers, limited ministerial capability, ubiquitous corruption and regulatory hostility towards the country's private sector.
To have any chance of success in the long term, the process of post-conflict reconstruction of public infrastructure must simultaneously rebuild Iraq's soft infrastructure—its institutions—as well as its hard infrastructure—the actual physical public works. To rebuild soft infrastructure there must be a sharp reduction in subsidies. This will require increasing prices for electricity, water, and other essential services.
Other Economic Sectors
It's also important to look at other sectors of the economy besides energy and electricity. These economic sectors include health care, minerals, transportation and agriculture. After decades of war, sanctions and occupation, Iraq's health care services are struggling to regain lost momentum. There is a severe shortage of doctors and nurses largely due to brain drain motivated by the urge to leave the violence. There has also been a deterioration in the quality of medical education and a shortage of medical supplies.
Iraq is also rich in minerals. But because of continuous violence since the early 1980's, the mineral potential of the country and their resources has never been fully explored by the Iraqi's or foreign companies in comparison to their oil resources. Therefore, the mineral potential in Iraq for foreign investors is great.
Of course, minerals need transportation. Thankfully, Iraq has been in the rail business for almost a century. After water transport, rail is by far the most efficient means of transporting bulk goods such as agricultural products or fertilizer. Compared to truck transport, railroads can reduce transport costs by up to 90%. Iraq has almost 2300 km of rail lines.
Unfortunately, because of poor maintenance and the effects of conflict, some of the rail lines cannot handle the heavy loads that are required for modern railroad operations. In addition, the Iraqi railroad system also suffers from outdated and poorly maintained engines as well as outdated communication systems.
Potential foreign investors need to know that a lack of physical investment in communications and rails are not the binding constraints on Iraqi Republic Railroads (IRR) productivity. Like most of the other SOEs, IRR suffers from excessive employment – over 10,000 employees inefficiently running a system that in other countries would only require from 10% to 25% as many employees. To make matters worse, many of the employees lack the necessary skill-set for their jobs. Thus, foreign investment in improving the aging railroad hard infrastructure will have little long-term impact on railroad efficiency if there is no rationalization of managerial organization and incentives (i.e. railroad soft infrastructure).
Like its railroads, much of Iraq's paved roads follow the Tigris and Euphrates rivers. There has been little expansion of the road network over the last several decades with only about 30% of the roads designed for high volume traffic. Despite the sharp increase in road usage since 2003, road network in Iraq is inadequate for a variety of reasons. But the critical road transportation constraint in Iraq is not just building more and better roads but rather maintaining them. The failure to limit overweight trucks has led to rapid deterioration of major trucking routes. The biggest physical challenge in building roads are almost 1300 bridges required not only for the two rivers but also for the large number of irrigation canals. In nations like Iraq that have substantial agricultural sectors, bad roads impede economic development.
There has been substantial river transport in Iraq for the millennia. Currently pipelines, railroads, roads and air transport carry most of Iraq's current trade and the future for river transport is limited due to falling water levels in both rivers but especially in the Euphrates. However, the ports of Iraq will continue to be the major routes of imports and exports especially for imported commodities such as wheat and exports such as oil products and fertilizer.
To restore substantial port throughput will require at least four expensive initiatives: clearing wrecked vessels from the navigation channels, restoration of bridges that were destroyed during conflicts and temporarily replaced by floating or low-clearance bridges, dredging the channels, and a substantial upgrade of the port facilities. In the past Baghdad had plans to improve river transportation but failed for lack of investment money. This would be a good FDI option for UAE to consider for FDI.
Since 2008, Iraq has experienced a dramatic increase in international air travel. That said, one of the most serious challenges facing Iraq's air industry is the requirement to develop and maintain an up to date air traffic control system with the necessary radar, communication and coordination systems. The difficulty is not obtaining the necessary equipment but rather in training the personnel to perform these critical jobs. UAE should consider training Iraqi air traffic controllers to develop and maintain an up to date air traffic control system with the necessary radar, communication and coordination systems.
Agriculture is the last sector we look at. We look at this sector in depth because it is still the largest source of employment in Iraq after government jobs. Agricultural jobs account for almost 20% of all employment in Iraq.
Iraq was an agricultural cornucopia, a net food exporter and a food basket for the Mideast throughout most of its history. Unfortunately, Iraq's agricultural sector has been deteriorating. Iraq's agricultural production per hectare has fallen substantially below that of other Middle Eastern countries due to the use of outdated farming techniques, poor quality seed and old equipment.
This deterioration in recent times has more to do with mismanagement of Iraq's agricultural resources than any fundamental change in Iraq's agricultural environment. Iraq's agricultural employment has fallen by almost half since the late 1970s.
Three of Iraq's neighbors (Turkey, Syria and Iran) are building dams and irrigation projects which will result in a large reduction in future river flow. This especially true regarding the Euphrates. In the 2020s Iraq can expect a 50% reduction in the volume of water from the Euphrates.
In the past, the most serious challenge facing Iraqi agriculture has been the salinization of 75% of the nation's irrigated land. But the recent discovery of how to use salt water to grow rice is potentially a game changer. UAE should consider using salt water to scale up the production of Iraqi rice.
Regardless of what Iraq wants to export, the dominance of oil exports has contributed to a severe case of the "Dutch Disease" appreciation of the ID foreign exchange rate and resulted in lower prices for imported food products and higher prices for Iraqi food exports. Iraq must diversify its economy and explore creative economic reforms to offset this problem and ultimately make Iraqi agricultural exports more competitive.