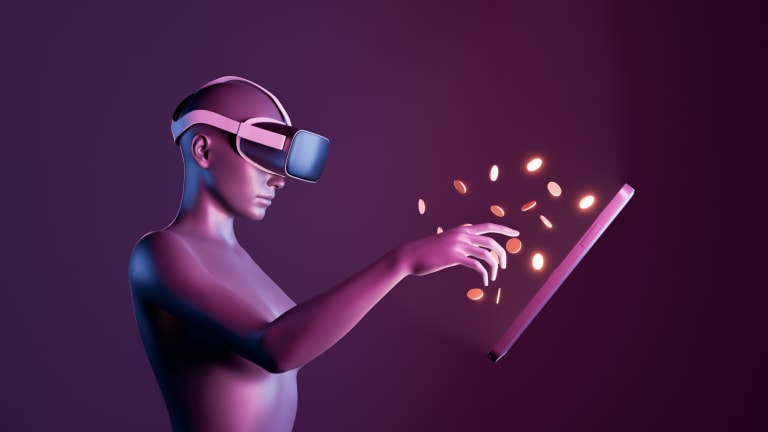 If Your Portfolio Has No Metaverse Exposure, It Should and Here is Why
The time is now to capitalize on the opportunities for investment and wealth creation as the colossal undertaking to create, build and deploy the Metaverse takes shape.
The second article in Tal's Metaverse Series on The Street. 
I don't usually begin any of my articles, or any conversation for that fact, with an opinion about investment opportunities. But this is different…this is the METAVERSE. Therefore, I'll boldly proclaim that if your investment portfolio doesn't have any Metaverse exposure, you should do something about it right now. In full disclosure, it should come as no surprise that I do have Metaverse exposure in my portfolio.
As I mentioned in my "Dawn of the Metaverse" article, the first of the series, we are at a moment in history where the Metaverse is much like the Internet was in the late 80's and early 90's, "social networks" of the mid-90's and the "Cloud" in the early 2000s. Much like the massive disruptive technology revolutions that came before, the Metaverse will change the way we interact, transact and behave.
In this particular article, I'm taking a closer look at the opportunities for investment and wealth creation as the colossal undertaking to create, build and deploy the Metaverse takes shape. Because of its pervasiveness and eventually universality, the Metaverse will impact every industry and almost every aspect of our lives. With a movement like that, the investment opportunities are immense, but you have to understand the space better before diving in.
WHAT WILL THE FUTURE OF THE METAVERSE LOOK LIKE?
Early beginnings of the Metaverse – How Gaming has the Goods
By now, many can already visualize the early days of the Metaverse and understand that beyond the hype, some of the early adoption and implementation will come from gaming and entertainment. When it comes to gaming, the metaverse is now. Companies like Roblox (RBLX), Minecraft owner Microsoft (MSFT), and privately held Fortnite creator Epic Games are already creating Metaverse-like experiences. Traditional game makers including Activision Blizzard (ATVI), Electronic Arts (EA) and Take-Two Interactive Software (TTWO) are also on their way to building their future metaverse.
Early pioneers in this space, gaming companies have the design and tech know-how already baked into their operations to easily create mini-metaverse experiences that have become important building blocks for the next wave of metaverse innovations. This is exactly why these companies will see tremendous growth in the short and long-term. Corporations from every sector, unable to design and create metaverse worlds in-house, will inevitably look to experienced organizations like gaming companies to help them in their pursuit.
Deep and wide into many aspects of our lives
Make no mistake, over the next decade we will experience the Metaverse disrupting many aspects of our daily lives – from virtual office space and training to smart homes and concert experiences. Work, commerce, education, travel, finance, healthcare, retail and everything in between will launch their own unique take on the Metaverse – creating a global paradigm shift that will be lasting. Some iterations will work, and some will fail. This type of technological Darwinism will take hold and, in the end, a set of standard frameworks, various popular devices and wearables and a commerce engine using blockchain-based digital assets (i.e., NFTs and crypto) will be built and will win out.
But what exactly does it mean to build the Metaverse? The metaverse isn't a single platform. Rather, it is a complex digital environment that relies on seven distinct layers (suggested by Jon Radoff, author of Building the Metaverse blog), as well as a variety of companies that will have the opportunity to play a significant role in the creation and evolution of the ecosystem. These layers include:
1. Infrastructure – Connectivity technologies like 5G, WiFi, cloud and hi-tech materials like GPUs. Notable companies in this space: AT&T, Verizon, Broadcom, Qualcomm, AMD, Nvidia, Amazon, Alphabet, Microsoft, and Intel
2. Human interface – VR headsets, AR glasses, haptics and other technologies users will leverage to join the Metaverse. Notable companies in this space: Oculus, Apple, Meta, Microsoft, Unity, and Magic Leap 
3. Decentralization – Blockchain technology, DeFi, NFTs, IOT, AI, edge computing and other tools and assets of democratization.
4. Spatial computing – 3D visualization and modeling frameworks.
5. Creator economy – An assortment of design tools, digital assets and e-commerce establishments.
6. Discovery – The content engine driving engagement, including ads, social media, ratings, reviews, etc.
7. Experiences – VR equivalents of digital apps for gaming, events, work, shopping, etc. Names like Axie Infinity, Decentraland, and Epic Games.
BUILDING THE METAVERSE WILL TAKE TIME
The Metaverse, like Rome, will not be created in a day. It will take over a decade or more of evolution for the Metaverse concept to become a permanent feature of many aspects of our daily lives. There are a variety of reasons for that. Some technologies still need to develop and improve in order to make the Metaverse experience fully immersive and captivating, while being practical and accessible (price and simplicity) for everyday use.
Think about it, every single device – from refrigerators to mobile devices to TVs – will be a part of the Metaverse. And that's just hardware. New applications and software will have to be developed, while existing ones will have to adapt. The wearables we know of now, like watches, glasses and even earbuds, will all play a role, but don't underestimate the likelihood and impact of some "black swans" that will come along – making what we have now obsolete.
THE METEVERSE WILL BE HUGE
For crypto investors, many Metaverse projects such as Axie infinity (AXS) have been running at full steam. To Wall Street, the Metaverse revenue opportunity, which could touch a wide range of industries including technology, entertainment, sports, education, and retail, is just getting started.
Following a laser focus on multiple corporations within the Metaverse ecosystem last year, Wall Street analysts have now started focusing on the Metaverse's market impact potential. While the analysts' predictions vary in size, they all agree that the Metaverse is a multi-trillion-dollar opportunity over the next decade.
Jefferies predicts the Metaverse will be the biggest disruption to how we live ever seen. In a December 6, 2021, note, Jefferies analysts wrote that the Metaverse could be the "biggest disruption humans have ever experienced" and lead to the "digitization of everything." While Jefferies' analysts predict that the Metaverse will encompass all aspects of human activities eventually, they believe that the adoption will start with games, entertainment, and social media – followed by more than a decade of evolution.
Morgan Stanley analysts believe that the addressable U.S. consumer expenditure to monetize within the metaverse is at $8.3 trillion. This is looking only at the Metaverse market related to advertising and e-commerce.
Bernstein analysts estimate the size of metaverse-related markets to be $2 trillion and growing. Evercore ISI analysts think that the metaverse can account for trillions of dollars of value creation within the next decade. Ark Invest CEO Cathie Wood says the metaverse will be a multi-trillion-dollar opportunity and impact every aspect of the economy in ways that "we cannot even imagine right now."
WHY SHOULD YOU INVEST IN THE METAVERSE?
Can you imagine going through the last three decades without your investment portfolio benefiting from the growth brought by the internet revolution? Probably not.

Investors need to be thinking about the Metaverse as akin to the internet in its early days. In addition to its immeasurable impact on our lives, the impact of the Metaverse and related technologies on investment opportunities will be monumental. But contrary to the Internet revolution, the technology development and deployment, as well as the global mass adoption of the Metaverse will happen at a much faster pace.
As I mentioned in a previous article, we are at the precipice of what could be the largest transformational period in global history. Investors that take advantage of the early opportunities of building the Metaverse will only benefit when the reality of this new ecosystem comes to fruition. In that vein, the articles that will follow will look at both short and long-term opportunities, in a variety of different industries, that offer readers a deeper understanding of the space and highlight the substantial upside to participating in the Metaverse wave, along with some of its inevitable challenges. The choice to act on that knowledge is squarely up to you.