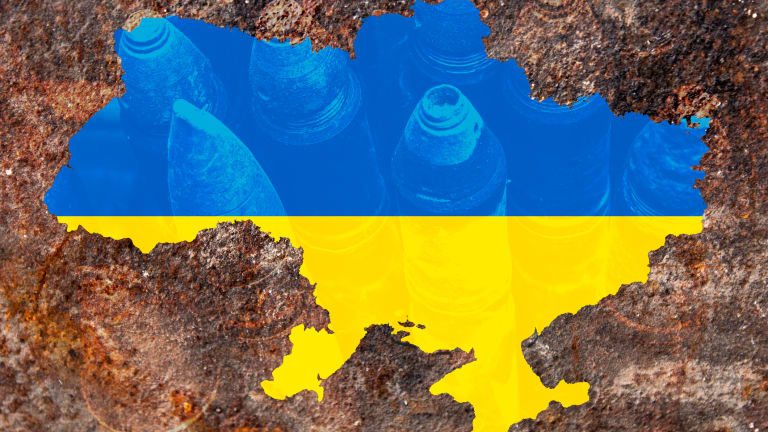 What the War in Ukraine is Teaching Us About Crypto
As the war in Ukraine rages on, crypto's role in the conflict is becoming more significant - for the good and the bad.
As the largest land war on European soil since World War II continues to progress, crypto's role in the conflict is becoming more significant. With many already noting that crypto may be the new "conflict currency," the digital asset is being used for good, as well as for bad. Yet, crypto is defying traditional safe-haven assets like gold – making moves that more closely mirror the equity markets than the commodity markets. In fact, cryptocurrency tumbled alongside global equity markets initially on news of the invasion but have rebounded since. Bitcoin (BTC) fell to below $35,000 when Russian forces entered Ukraine but has since risen about 25%.
What does all of this tell us about crypto and its role in both the modern economy and in modern warfare?
THE GOOD:
The unprovoked Russian invasion of Ukraine has shocked the entire world and has offset the global order that has existed for decades. Citizens from all over the world have been moved to help the people of Ukraine in any way they can. Additionally, Ukrainians themselves have seen their economic wellbeing crumble as businesses close and workers flee or fight.
Many Ukrainians have turned to crypto to avoid the obvious problems with carrying large amounts of cash and/or trying to access bank accounts locally or abroad. Specifically Ukrainian refugees are using crypto so they can convert it into fiat currency in a new country. While still volatile, this new digital asset may help thousands of Ukrainians survive financially for the duration of the conflict.
Crypto is also being used as another force for good in the form of donations. Crypto users all around the world have donated more than $35 million since the start of the invasion, according to Elliptic, a blockchain analytics firm, with at least $14 million already disbursed to Ukrainian citizens and the military. The first fund that's leading the crypto-support charge is the The Crypto Fund of Ukraine, created with the help of Kuna, the Kyiv-based crypto exchange. Announced in a tweet from Ukraine's official Twitter account, the Crypto Fund of Ukraine is helping fund food, gas, medical supplies and other necessities for civilian populations. The second is a wallet, which is being coordinated by the Ministry of Digital Transformation, which is helping to fund the military.
Additionally, $6.5 million in proceeds from a Ukrainian flag NFT was auctioned off by the Ethereum-based group Ukraine DAO – making it the tenth most expensive NFT ever sold.
THE BAD:
The brazen attack by Russia has galvanized world leaders of NATO countries and beyond to take swift and decisive economic action against the Russian government, its oligarchy and its citizens. So, at the same time the lives of millions of Ukrainians are in turmoil, so is the Russian economy – worrying many that crypto could be seen as safe haven asset and a potential sanction evasion tool.
The sanctions imposed by the United States, European Union, United Kingdom, and other countries are some of the harshest ever - targeting Russia's central bank to freeze the country's war chest. While there has been some activity to bypass sanctions, or mitigate their impact by using crypto, but by and large, it just isn't as widespread as some were predicting. That's because crypto transactions can be traced. Crypto wallets are stored on the public blockchain, which makes sanctioned wallets easily identifiable. Additionally, most crypto exchanges have know-your-customer (KYC) and anti-money laundering protocols in place. And, let's not forget that at some point, any sanctioned Russian wallets will have to transfer its crypto to a fiat currency – sounding off alarms everywhere.
Most recently, the U.S. has put pressure on crypto exchanges to monitor movements and even initiate their own "soft sanctions" by any wallets in question, a request that has been met with pushback by the crypto community and leaders of those exchanges. However, the EU took further steps by announcing that it will be, "taking measures, in particular on cryptocurrencies or crypto assets, which should not be used to circumvent the financial sanctions." France's finance minister, Bruno Le Maire, and Germany's finance minister, Christian Lindner, agreed that EU leaders should "take steps to prevent listed individuals and institutions from switching to unregulated crypto assets."
The question remains, how can any bans on crypto movements by even the wealthiest Russians be enforced? Crypto is decentralized and based on anonymity, so even with some measures in place to thwart illicit activity, there will be Russians that generate income using crypto during the conflict. How much? Only time (and crypto price movements) will tell, but it will not be enough to save the Russian economy.
THE TRUTH:
By focusing on cryptocurrencies during this chaotic time, the digital finance community and the markets are learning more and more about the behavior of these digital assets. While things continue to evolve at a rapid pace, it's clear what cryptocurrencies are and what they are not:
Cryptocurrencies ARE:
A force for good creating a new opportunity for people and entities to come together quickly and seamlessly to help fund and upport a cause
An investible financial asset, but not necessarily a "safe-haven" asset because of its volatility
A digital currency that may be a "lesser evil" than a tumbling sovereign currency, which can make it desirable during times of uncertainty
Cryptocurrencies ARE NOT:
A commodity like gold. Crypto's behavior and its swings in value mirror the stock market more than anything else.
A systemic tool for Russians to sidestep global sanctions on a mass scale
Going to replace fiat currencies, including the Ruble, but may play a bigger role in the economies of struggling and emerging nations around the globe.
As a community of digital finance participants, let's collectively work to make cryptocurrencies and other digital assets a force for good for Ukraine and for the world moving forward. Behind the stories about crypto's role in the war in Ukraine as a "conflict currency," let's remember that there are real people with lives and livelihoods at stake. While hoping for a quick resolution in Ukraine, my hope is also that crypto's prominence in this particular conflict will create progress that impacts infrastructure, technology and regulatory framework development well beyond this point in history. Let's use this moment to make things better.