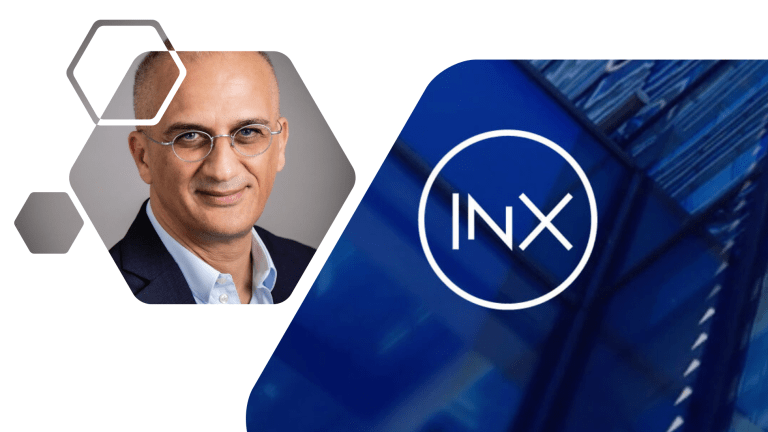 Q&A Session with INX's Shy Datika on Recent Wins and the Future of Digital Assets
Tal and Shy discuss THE INX DIGITAL COMPANY (NEO:INXD) digital securities and cryptocurrencies trading platform, its recent SEC-registered token IPO and how it continues to push the industry forward.
Before we dive into the details, for those who don't know THE INX DIGITAL COMPANY (NEO:INXD), it is a blockchain-based platform for trading digital securities and cryptocurrencies and is also one of SPiCE VCs' portfolio companies. INX is one of the three companies within SPiCE's portfolio that have gone public in the last 12 months – becoming the first company to complete an SEC-registered token IPO. Adding to its impressive accomplishments, INX shares began trading on the Neo Exchange in Canada just two days ago – a true milestone for INX and the entire digital finance ecosystem.
INX has taken a particularly unique path with two separate IPOs: One digital, one traditional, one equity based and the other is not. Why did you take this path? Was it worth it? Do you see more companies following this path?
We see INX as a bridge between the legacy capital markets and their future. The move into Blockchain-based trading is no longer a question. It is happening where both governments and investment institutions are preparing and legislating for this transformation for the past 18 months. While they all agree this is where the capital market is going, some have the ability to invest in digital assets while others cannot due to slower regulation. By choosing this path of having both an INX token and INX equity shares listed, we enable both worlds to join the INX future through any of the investment methods. We believe this will provide a gateway for many institutions to join the blockchain evolution via the equity routes until internal protocols and regulation will allow them to migrate to blockchain capital markets.


What is your vision for the future of digital assets and how do you see it evolve in the short and long-terms?
We believe digital assets are the next logical step in the evolution of capital markets. We call it internally "Capital Markets 2.0". It takes away many of the challenges of the legacy world such as T+ settlements, cross-border trading, cap-table management, and many other issues while, providing more transparency and control to avoid crime and money laundering. In the short term, we see rapid growth of permissive legislation spreading across the globe enabling the big institutions and banks to legally join the new way of trading in the longer term and migrate into Capital Markets 2.0 within two decades time.


What trends in the Digital Securities and Crypto ecosystems do you see on the horizon in the next couple of years?
We see more companies raising capital via security tokens that are regulated under a prospectus and customary financial reporting protocols, while crypto trading will become more mainstream for investment banks to trade under regulated platforms. This evolution of the market will enable these assets to be deposited and transferred via the traditional banking routes with all taxation and cross-border aspects resolved.


As a director for a large institutional player, when do you see institutional investors really participating in a significant and impactful way?
I believe institutional participation will grow gradually over the next five years, which is a continuation of what we've already seen in the market. We need basic facilitations to be established such as custodianship, security registration, banking deposits etc., before institutions will feel comfortable to jump in. All of this is happening and progressing as we speak.


What does the future hold for liquidity in Digital Securities?
The future is very similar to the equity market in its early days at the 18th century, but faster. It will grow in liquidity as the trade becomes more regulated, and more and more retail and institutions can legally and safely trade
What's the "next big thing" in the Digital Securities ecosystem? How do you think INX will play a role in the evolution of this digital asset?
The next big thing in the horizon is "Regulated ICOs". ICO is the wrong term, but it drives the point. In 2017, token offerings became all the rave as companies raised billions in ICOs. It was an amazing new instrument – but illegal as it was not regulated. The instrument is still amazing and groundbreaking, and once regulated, it will become the new way to raise capital. It is a new asset class that is neither dilutive as equity nor non-repayable as debt. As such, it bears huge promise for both small companies and Fortune 500 giants.
I believe that Regulated Token Offerings (or regulated token IPOs) are the next explosion in this world. INX has the experience and knowhow to help many enterprises and startups alike to start using this route for capital raises. As such, we believe our achievements and positioning will be pivotal for this industry's emergence.


How do you see the Crypto ecosystem changing/evolving over the coming year?
I believe there will be a natural selection into quality. Many of the "shit coins" will be driven to sidelines while a few quality coins will migrate to regulated platforms and will attract institutional investors as well as retail. This will be a massive boost to the evolution in capital markets.
Do you see an increase in regulatory clarity in the digital finance sector as a major catalyst to mainstream adoption and greater institutional participation?
Absolutely. We have seen over the last months increased activity of the regulators especially related to Crypto, DeFi, and Stablecoins, as well as a call to legislators to advance digital finance related legislation. I am convinced that the more clarity provided through these activities more institutions will participate in the market, and adoption circle will grow among the retail investment community as well.
What are the next major moves for INX and how will you get there?
We are extremely aggressive and working hard to bring amazing developments to the regulated blockchain arena and our community. Stay tuned…
A Final Thought on my Q&A Session with Shy:
I always enjoy my discussions with Shy Datika – an industry disruptor and a friend. It's especially a pleasure to publish this article the first week of INX shares trading – a major triumph for INX, the digital securities market and the entire digital asset ecosystem. Along with SPiCE VC, of course, INX is a company you will definitely be hearing more in the coming months and years. As an early pioneer, they are among a select few organizations well-positioned for success as the blockchain-based digital economy evolves.