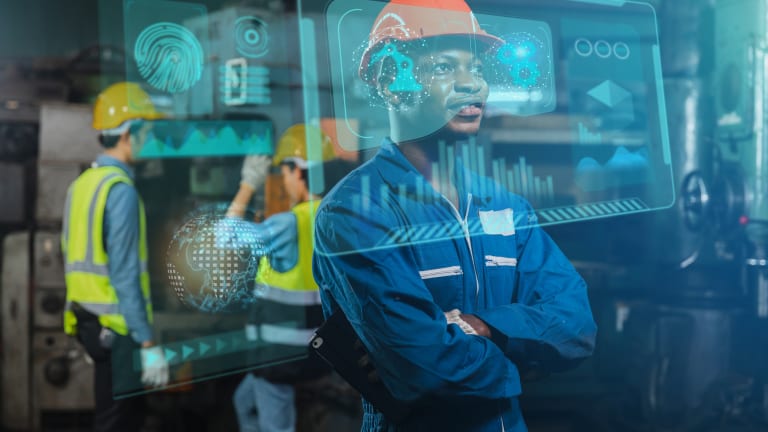 METAWORK IS ON ITS WAY TO A COMPANY NEAR YOU
The Metaverse in the workplace is being developed now - impacting the way we work forever.
In the third installment of the Metaverse series for The Street/DeFi, and the first piece focusing on various Metaverse use cases, I'd like to take the opportunity to spotlight the impact Metaverse will have on the workplace. This particular use case is not as fun and glamorous as gaming and concerts but will be an important catalyst for Metaverse mass adoption in the coming years.
Thinking about a world where many of our meetings and collaboration will be in a digital realm is not that far off. After so many of us were forced to switch to digital-only or hybrid modes of work due to COVID, we've become accustomed to a reality where many of our everyday tasks are already in some virtual form. Therefore, the leap to a Metaverse landscape in the workforce isn't that large – and is actually a natural iteration of where we are today.
Working in the Metaverse takes working remotely to the next level – bringing you all the capabilities and interactions of the real world, with very little of its challenges or limitations.
Virtual Office Space Rebooted
In his annual year in review blog, Bill Gates wrote, "within the next two or three years, I predict most virtual meetings will move from 2D camera image grids…to the Metaverse, a 3D space with digital avatars."
Throughout the pandemic, we have become accustomed to Zoom, Skype, Microsoft Teams, and other communication tools to provide us with virtual communication. However, the Metaverse will enhance the remote collaboration experience by providing participants with a virtual office space that will be so realistic that everyone will feel like they're in the same room together.
We're already seeing companies like Virtuworx create avatar-based hybrid of virtual reality and mixed reality environments that turn remote work into a meaningful and productive experience. With a fully customizable solution for virtual training, offices, events, trade shows, and conferences, instead of staring at a screen all day, participants get to explore and engage in a number of ways.
When telecommuting, employees often complain that they lack the ability to read body language and communicate effectively. Managers struggle to maintain visibility over productivity of teams and individuals. And, due to the prolonged absence of in-person interactions, there is risk of disengagement. The Metaverse can create an immersive virtual "in office" workplace where avatars of employees can work together just like in the real world and alleviate some of the elements of isolation associated with remote work.
Simplifying Complex Training
By creating an industrial plant in the Metaverse a whole new world has the opportunity to unfold for industrial trainees. A trainee entering that world would appear to be right in the plant, surrounded by other trainees in the same Metaverse. Trainees could interact inside the Metaverse, training together on complex tasks, and in this way learning from shared successes and mistakes (that may be injurious). The cost savings for this virtual training experience is dramatic, along with an organization's ability to better assess and provide real-time feedback to trainees.
The same concept can apply to training teams that need to operate in a complex, scarce or dangerous environment. A version of this exists in the form of flight simulators in the military and airline industry. However, the Metaverse experience in these types of intense training environments will stunningly simulate real life scenarios without exposing trainees to danger. Think Firefighters, astronauts, rescue personnel and even automobile crash testing. On top of all of this, the applications for the Metaverse in the medical field is as equally impactful (i.e., training brain surgeons, trauma doctors and ICU nurses, etc.).
Using 3D Visualization for Problem-Solving
Some tasks and business problems are better tackled visually, in a way that is not practical in the real world. For example, architects might want to design and draw up multiple detailed mock-ups before finalizing a concept. However, there are time and cost constraints, and often, errors are overlooked due to the lack of precision. The metaverse gives you a space where you can 3D-model virtually anything, and real-world specifications can be replicated via digital twin technology. This enables smarter problem-solving in industries like construction, architecture, healthcare, life sciences and more.
Who is Building the Virtual Workplace?
Now that we've established some of the motivation for moving at least some of our work life into the Metaverse, who is actually building the virtual workplace?
It seems like everyone, from large tech players to new startups, have identified the opportunity. Microsoft plans to integrate its VR/AR platform Mesh with Teams, while Meta has built Horizon Workrooms to hold meetings with Oculus headsets. While this is excellent progress, it may actually be the companies we've never heard of that are likely to make the "Metawork" happen.
Virtual office companies were getting a lot of traction already before the word "Metaverse" entered our lexicon. With mass adoption of remote work, startups saw an opportunity and pounced. Some have raised serious funding from big-name investors. Gather, founded in May 2020, raised $77 million, and Teamflow has raised $50 million since its launch in 2021. Virbela, a virtual world-builder since 2012, saw a 260% increase in revenue in the second quarter of 2020. SoWork, is a digital office company that grew out of the mega shift to remote work in 2020. In SoWork, avatars representing employees populate the virtual halls, bumping into each other for spontaneous conversations, as they would in a traditional workplace. 200 companies moved to the platform in the first week SoWork was open to the public.
From the perspective of the companies planning to use digital offices, there's only an upside. Corporations will be able to save on ever-increasing real estate costs, while employees reap the benefits of living where they want, saving time on commuting and still have the collaborative social engagements and interaction they love at work.
What's Next for Metawork?
As exciting as it may seem, it's important to remember that the Metaverse as an embodied, interconnected network doesn't exist yet. For today, companies are building the next best thing: worlds you can move around in as a digital stand-in. The look and feel significantly vary. Gather looks like an old-school video game, with pixelated characters in a 2D world. Teamflow lets you move around a modern-looking office as a floating circle of video. Virbela has a 3D design, allowing you navigate through an office campus behind a full-bodied avatar.
When will "Metawork" actually be fully realized and become part of the mainstream workday experience? Some aspects of it, as Bill Gates suggests, may be only two or three years out. However, fully immersive corporate environments are more like a decade into the future, as they require significant progress on hardware, accessibility, security, social interaction and of course, standards and regulation.
Similarly, to the evolution of digital finance, many questions will need to be answered (and some regulations will need to adapt) before the mainstream, mass corporate adoption takes hold. In the meantime, I like to think about how I would decorate my "virtual conference room."