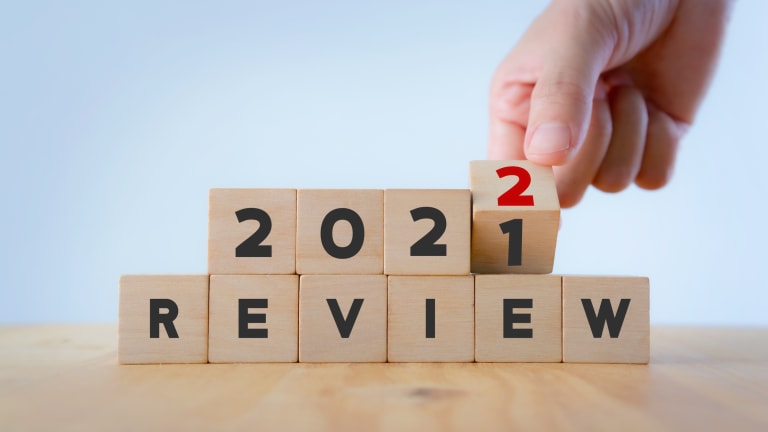 DeFi's 2022 End of Year Summary – One Year Early
Is it a prediction or a review? It's a little of both as we predict what a 2022 'Year in Review' may look like in the world of Blockchain and DeFi.
It's become a standard practice for executives and thought leaders in every industry to publish "2021 in Review" or "A Look Back at 2021," articles, blogs and newsletters. While its always interesting to remember what has transpired in a year gone by, I believe that spending energy on what's ahead is more productive. In the words of Walt Disney, "never look back, darling. It distracts from the now."
In that vein, I thought I'd turn the "review" concept on its head and predict what these same thought leaders will be writing about as we all collectively take a look back at 2022 in the world of Decentralized Finance (DeFi). What technologies and companies will have had the greatest impact on the DeFi industry in 2022? What was a success and what was a bust? What did we learn from another year of innovation and advancements in the growing blockchain and digital finance sector?
While I don't have a crystal ball to confirm if these predictions are correct, I'll take an educated guess that the following events and experiences will dominate our dialogue in 2022:
'YEAR OF METAVERSE' WAS MOSTLY HYPE
2021 ended with major Metaverse hype, with Facebook rebranding as Meta, and multiple other corporations like Epic Games, Microsoft, Coinbase, and Tencent joining the Metaverse game. All of this activity set the stage for 2022 to be the "year of the metaverse." While the hype and the funding continued to roll in, 2022 (as expected) did not see the Metaverse come to fruition. On the contrary, 2022 was one of the many years of building, developing, fine-tuning, failing and succeeding. That's because the Metaverse is a complex journey that will take on many forms for a variety of industries. It's better to look at 2022 as the beginning of that multi-year journey.
More importantly, what we saw this year is many new startups and ventures emerging, which sparked new infrastructure development and early applications, along with corporations investing in and beginning to experiment with the Metaverse in multiple industries.
NFTS MOVE BEYOND THE HYPE
More marketplaces (some dedicated) join the NFT ecosystem
If anything was a strong indicator of what was to come in 2022 in the NFT market, it was OpenSea's valuation more than $13.3 billion after a Series C funding round. The NFT aggregator and marketplace continued to be a dominant decentralized platform for users looking to mint, buy, sell and trade NFTs. However, other marketplaces and NFT search engines gave OpenSea a run for its money.
Coinbase NFT's initial waitlist exceeded 1.1 million, which was more than OpenSea's total active user-base at the time. In addition to Coinbase NFT, exchanges like FTX NFTs, Rarible, Zora and others exploded on to the scene – creating more opportunities for NFT market participation.
Major growth in NFT use by the Gaming and Gambling industries
The value of NFT transactions more than doubled this year. That's because NFTs became the central source of monetary transactions in gaming and the burgeoning Metaverse. According to Deloitte, four to five million sports fans globally purchased or were gifted an NFT sports collectible in 2022. This growing interest in sports NFTs fueled NFT gambling. The sports betting landscape is huge and the NFT market certainly capitalized on this trend and designed gambling projects aimed specifically at sports enthusiasts.
Speaking of gaming, "play-to-earn" gaming grew in usage and popularity – with new releases in 2022 that pushed the boundaries of what genres and mechanics can be adapted to this model. Beyond "play-to-earn", NFTs also played a new role in giving gamers ownership of digital assets purchased within a game – and putting more power and autonomy in gamers hands.
Robust commercial applications (and corporate users) of NFTs beyond the art & collectible marketplace
The funnel of innovative ways to leverage NFTs continued to widen – creating rapid growth opportunities in 2022. From supply chain and logistics to healthcare, real estate and retail, NFTs had a significant impact on industries that for years have struggled to find effective ways to truly digitize their operations. 2022 marked the beginning of mass adoption of NFTs by corporations in a variety of industries to identify, track, secure and share goods – much of which were seamlessly integrated and invisible to the consumer.
PROGRESS ON CRYPTO & DIGITAL FINANCE REGULATIONS
Earlier in the year, lack of oversight and regulatory clarity continued to make it hard for ecosystem players to drive legitimate business innovation and growth. However, that changed gradually as regulators took steps to provide more clarity and guidance for the industry. Specifically, the SEC, CFTC, FINRA, the Fed and others made major steps to define their own regulatory domains and subsequent responsibilities, while becoming increasingly more proactive in their regulatory posture. These steps, which began with decisions about the backing requirements for Stablecoins like Tether, resulted in more institutional involvement – both participation and investment in DeFi.
Even with all of the positive movement in 2022, the regulators still faced the monumental challenge of balancing effective regulations for crypto and DeFi
without killing the transformational value behind decentralization.
MATURING OF DIGITAL SECURITIES
Digital securities were used in more ways and by more people in 2022 - from fundraising to traditional workflows. The industry saw an upswing in innovation, with an increased amount of mainstream assets securitized and issued as digital securities – allowing for more access to global liquidity. Simultaneously, traditional exchanges reinvented themselves, much like the Swiss SIX did, as interest in digital asset trading from both retail and institutional investors grew. Finally, new and regulated digital exchanges launched with a focus on vertical integration among players within the ecosystem.
Before 2022, most digital securities were issued under Reg D. However, this year saw additional digital securities offered under other regulations like Reg A+, S-1/F-1, etc. This allowed for greater market participation among all investors, not just accredited, which also led to increased liquidity.
ETHEREUM COMPETITORS (SOLANA, AVALANCHE, LUNA) GREW DRAMATICALLY
As Ethereum (ETH) became too expensive for many projects, alternative blockchains experienced a mega growth period in 2022 following a similar trend in 2021. One of the reasons for the adoption of other Blockchains is that they were ready to onboard projects and users before the Ethereum layer-2 infrastructure could be available for users. Base layers like Solana, Avalanche, and Algorand launched massive incentive campaigns to build or port on top.
BITCOIN BROKE THROUGH HISTORIC RECORD HIGHS
Bitcoin shattered its record highs of 2021. However, the cryptocurrency continued its roller coaster ride of volatility throughout the year. More importantly, it became clear in 2022 that Bitcoin is, in fact, partially correlated with stock market movements, contrary to what we thought prior to 2021 (viewing crypto/Bitcoin as an uncorrelated asset).
2022 IN SUMMARY
None of us really know what will happen this year in the universe of digital finance but taking our queues from 2021 and understanding where progress and focus is being channeled, we can be fairly confident that a 2022 "Year in Review" will look very similar to this. Obviously, we live in uncertain times where macro events can change the trajectory of innovation, behavior and even funding. However, the digital finance evolution has progressed too much to go back. 2022 will be a year we move forward in exciting (and historic) ways.