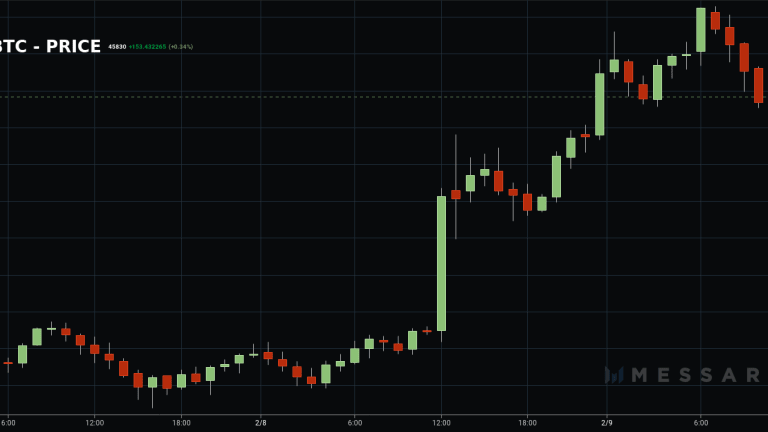 Bitcoin Sets New All-Time Price High on Tesla's $1.5 Billion Investment
Bitcoin breaks $48,000 after the carmaker disclosed it had bought the cryptocurrency.
Bitcoin's price surged to a new all-time high of $48,282 today according to Messari data after the news broke that Tesla had invested $1.5 billion of its corporate treasury in the cryptocurrency. 
The electric carmaker revealed the investment in a filing with the U.S. Securities Exchange Commission. The firm said it amended its investment policy this January to gain "more flexibility" to diversify and maximize returns on cash it holds. 
"We invested an aggregate of $1.5 billion in Bitcoin [sic] under this policy and may acquire and hold digital assets from time to time or long-term," the filing said. 
Tesla also said that it expected to accept Bitcoin as a form of payment for its products in the near future. The Bitcoin it receives "may or may not" be liquidated when it's received, the filing said. 
Tesla's amended investment policy allows the company to invest in "alternative reserve assets" including digital assets, gold bullion, gold exchange-traded funds and unspecified other assets in the future. 
The $1.5 billion investment in Bitcoin represents about 8% of Tesla's cash reserves. The firm reported $19.4 billion in cash on hand at the end of 2020. Its cash pile grew last year by $13.1 billion compared to 2019. 
Tesla's disclosure pushed the market value of all cryptocurrencies to $1.4 trillion today, according to data from TradingView. The price of Ether also set a new record at $1,826, rising 11% over the last 24 hours. 
Some 19 public companies have invested a portion of their treasury holdings in Bitcoin to date, according to CoinGecko. The total value of those holdings is 104,530 BTC, worth $4.8 billion at current prices. 
The Nasdaq listed software firm Microstrategy was the first to invest its corporate cash in Bitcoin, disclosing that it bought $250 million worth of cryptocurrency in August. It has since added to its holdings, totaling about $2.5 billion worth of Bitcoin at current prices, according to The Block. 
The payments firm Square followed suit in October, announcing it had bought $50 million worth of Bitcoin. But Tesla's entry to the Bitcoin markets could be a tipping point, analysts say. 
"Tesla will probably set an example for other large companies and this could strengthen Bitcoin in the future," Natixis strategist Nordine Naam told Reuters.
ARK Investment Management chief executive Cathie Wood had predicted a growing number of companies, led by technology firms, adding Bitcoin to their treasuries. 
"I think we're going to hear about more companies putting this hedge on their balance sheet, particularly tech companies who understand the technology and are comfortable with it," she told Yahoo Finance in January. 
Microstrategy has since organized a conference for companies interested in adding Bitcoin to their balance sheets. Nearly 7,000 companies registered to attend, according to Microstrategy chief executive Michael Saylor.