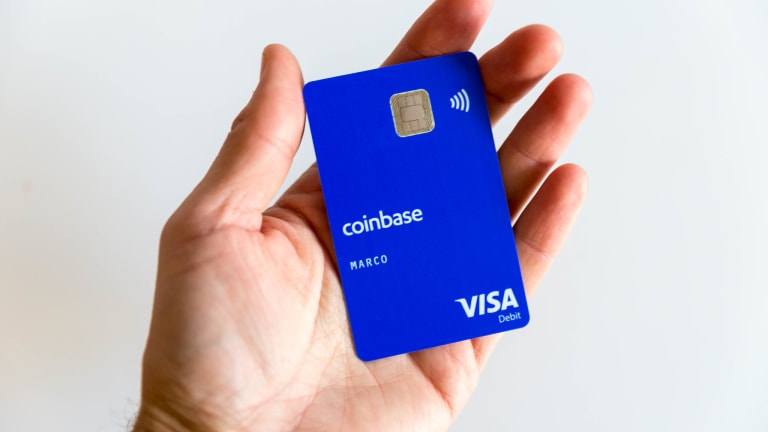 Crypto Exchange Coinbase Could Be Worth $100 Billion After IPO
The largest U.S. exchange is already valued at $77 billion on private markets.
Shares of Coinbase are trading at around $300 on private markets, giving the firm an implied valuation of $77 billion, according to a CoinDesk report. Coinbase has lodged paperwork with regulators for a public share offering expected in months. 
Tens of millions of dollars worth of Coinbase shares are being traded weekly on the Nasdaq Private Market at the $303 mark, CoinDesk reported citing an unnamed source with knowledge of the matter. The price has climbed steeply from $200 a share to the current level over three weeks, the source said. 
Coinbase used Nasdaq Private Market to launch secondary trading of its shares on Jan. 25, according to The Block. The move allowed shareholders, which includes current and former employees whose stock options have vested, to sell their shares ahead of the public listing. 
The derivatives exchange FTX also offers futures contracts on Coinbase stock. No actual Coinbase equity changes hands with these futures. The instruments have climbed from about $220 a contract when they were launched on Dec. 22 to $386 today.  
Coinbase pre-IPO futures on FTX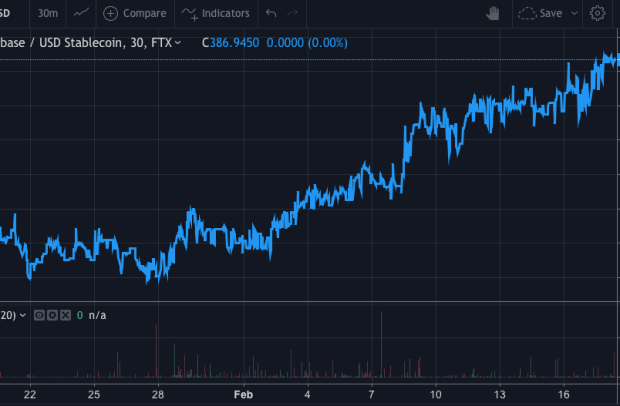 Insiders believe Coinbase could be valued at well over $100 billion when its shares trade on public markets.

Olaf Carlson-Wee, chief executive of the crypto fund Polychain Capital and the first employee at Coinbase, told Forbes he believed the company would be worth "north of $100 billion" when it's listed. His firm invested in Coinbase in 2017.

Carlson-Wee said the valuation would be justified because it's the "first legitimate IPO" for the crypto sector. 
Coinbase generated annualized revenue of $2.3 billion in the last quarter of 2020 with net profit margins of over 20%, Forbes reported, citing a person with knowledge of the matter. Those financials are more similar to established firms like Charles Schwab and rare in a high-growth startup, according to Forbes. 
Several large tech IPOs last year saw their valuations jump significantly upon listing, according to Crunchbase. Snowflake went public on Sept. 16 at a valuation of $33 billion, almost triple its $12 billion valuation in private funding rounds.

Similar dynamics were seen with the Airbnb, Palantir and Asana listings.