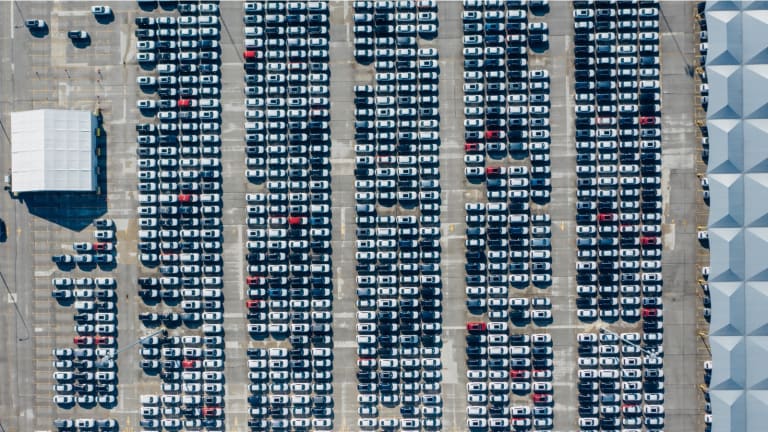 Cathie Wood and Sam Korus On Used Car Prices Relating To EV's
"If that happens, then that really impacts the way that traditional auto makers whose business really is financing vehicles can go about incentivizing new purchases for the new vehicles..."
Listener Question: "Could you expand on your recent note on the peaking of used car pricing as it relates to EVs?"

Sam Korus: "This past week, the Manheim Used Vehicle Index came out with its data for November, and there showed that the index reached 232.5, which was up 43.5% on a year-over-year basis. We noted that in September that used car sales were starting to fall off and that continued in November.
But the interesting piece in the November data was that inventories surpassed normal levels for the first time in a long time. So it's no longer supply constrained and we think that this could be the tipping point where prices for used vehicles start to come down.

Then the way that this ties in with electric vehicles is that a lot of the auto market is driven by used vehicle prices and them holding their value. If you look back to '08, '09 vehicles, default rate on auto payments was minimally impacted, because people were keeping their cars to go to and from work. Now that's no longer necessarily the case, there's other options, there's ride-hail as well.
And if you have electric vehicles that are coming out and whether they're just electric or even more so if they're also autonomous, it could make the value of these used vehicles drop in a significant way. If that happens, then that really impacts the way that traditional auto makers whose business really is financing vehicles can go about incentivizing new purchases for the new vehicles, as well as just continue to operate and profit off of those vehicles."
Phil here.. While financing isn't the driving source of revenue for vehicle manufacturers, it does represent about 10% of the top line. But more importantly it represents a lever they can pull to incentive drivers to buy their cars by lowering interest rates, cash back, etc.

GM
Ford
"So that's the way that we're thinking about it.

What we're seeing already is that consumers have hit this moment where they've realized, electric vehicles are the future, it's not just a niche. And so that's leading to a huge amount of supply constraint on the vehicle side. So all of these different factors are coming to play, which could spell trouble for the auto debt markets."

Cathie Wood: "I'll just add one thing there. Sam was talking about the used car market. If you look at the new car market, sales in the US peaked at an annual rate of 18.25 million in February, they dropped by October to $13 million.
Now in October, we began to hear auto companies as they were talking, as they were on their earnings calls saying that the chip shortages are alleviating. And so most analysts, the consensus view was that the November sales would be ticking up 13 and a half million and instead they went down to $12.86 million.
So very interesting because it could be... I mean, I'm sure autos will go up to some extent and these are gas powered autos, those are most of the car sold today. I'm sure they will go up to some extent, but I do think a lot of people bought a car during the coronavirus crisis to avoid mass transit.
Now they have an extra car and they're probably not going to buy another one until there's more supply on the electric vehicle side.

I think this is a very important moment for traditional auto companies, not only as Sam said in the auto paper, but also the companies themselves. There's going to be, we think, a lot of consolidation in this space because the rate of change is happening so quickly."
📣 For a full summary, notes, and transcription of ARK's December 13th Webinar--plus all the other webinars since early 2021--join Cathie's Ark Trading Floor. Webinar summary, notes, and transcription can be found here.