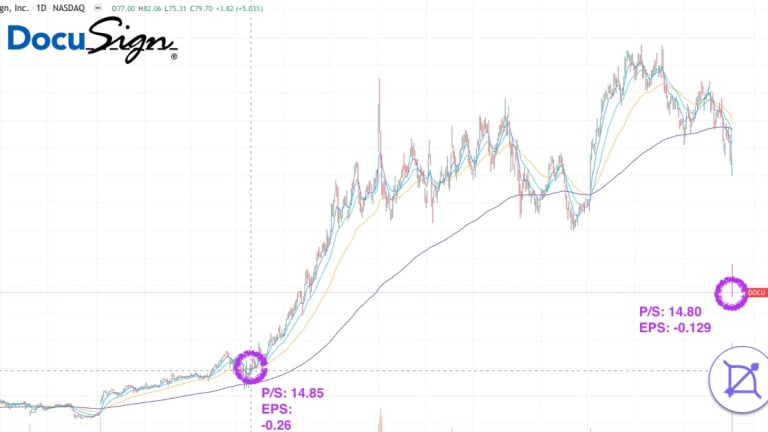 ARK buys DOCU stock, now trading at pre-pandemic valuation
After falling 40% in one trading sessions DOCU is now trading below it's pre-pandemic price-to-sales level and it's lowest P/S in over three years.
DOCU (Docusign) If it wasn't on CNBC it was on Twitter, a 40% decline in one day. I believe a lot of the downside we've seen in growth stocks when they post so-so earnings ends up being capitulation from investors.

After many of these names have traded sideways in a volatile manner for a year or so it would be easy to let go and either go to cash, swap investments, or take profit to pay for things in the real world. Given that, plus what I anecdotally gather as significantly less desire to "buy the dip", and you have a recipe for huge downside in names with high sales multiples.

DOCU is trading below it's pre-pandemic price-to-sales ratio after this crash. The last time DOCU traded at a 14 P/S multiple was March 20, 2020. In the 12 months prior to that it never dipped below 15.


Part of my general theory for Q3 has been that people just did not conduct as much business as they normally would. This was really the first time in 2 years that people vacationed, socialized, etc. I spent extra time away from business, I wasn't the only one.

Given that, I agree with ARK's assessment...
... and think that once people get back to a typical grind (Q1-2 of 2022?) the companies that positioned to be the foundational platforms of business for the next ten years will spark back to life. That's my guess. I have no bets on that right now but I'm watching for signs of it as the months pass.

ARK increased the position by almost 33% on Friday. They now own 1.2% of the company.