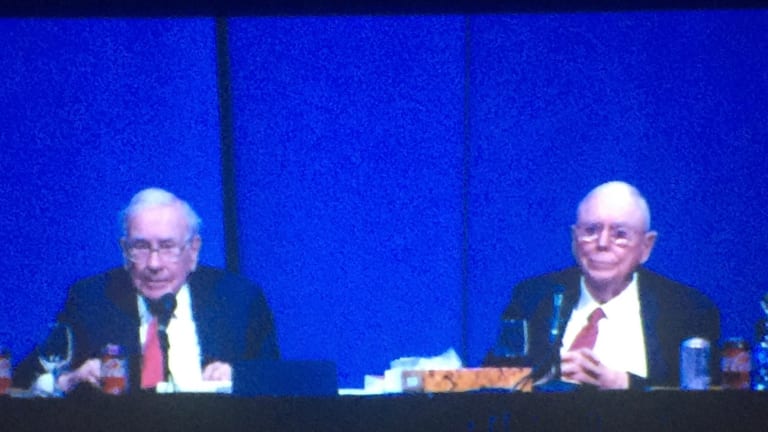 24 Hours In Omaha
I went to Omaha for the Berkshire Hathaway meeting. Here's what I learned.
I went to Omaha for the Berkshire Hathaway meeting. Here's what I learned.
May 8, 2019
24 Hours In Omaha
After many years away, I returned to Omaha, Nebraska, last weekend for the Berkshire Hathaway annual meeting. I remember telling myself years ago how lucky I was to attend back then because I was likely seeing one of the last meetings for Warren Buffett and Charlie Munger. I think that was 2009. They've only managed to increase Berkshire's market cap by $376 billion since then. Not too shabby for one guy who's 88 and another who's 95.
There are three different aspects to the Berkshire meeting. There's the Berkshire meeting itself, on Saturday morning. There are all the peripheral luncheons, cocktail hours, dinners, hosted by asset managers who either own BRK shares or subscribe to the Berkshire philosophy. Then there is the people watching. Buffett calls it "Woodstock for capitalists" but it more closely resembles a multi-class reunion weekend for a large Midwestern university with a strong engineering school. Maybe Purdue?
There were 'mom and pop' investors, and there were professional money managers. There were far more Asian visitors than I remember from my last visit. There were parents with children. There was a least one guy with a parrot on his shoulder. I guess he was looking for Jimmy Buffett.
It did remind me a lot of family reunions I used to attend when I was a kid. They were in tiny Richlands, NC, at a big old white house in the country, and the whole thing was organized by the family's wealthy patriarch (assuredly, a distant cousin). And we would have a picnic and drink Coca-Colas and eat peanut brittle, and listen to the older generation tell stories.
Pretty much everybody who traveled to Omaha last weekend went to bask in the Warren Buffett/Charlie Munger halo, including me, and that's fine. For me, attending the meeting is less about learning much new about Berkshire Hathaway than it is a reminder why I got into, and stayed in, the capital management business. When done wisely, with the right perspective and with the right people, it's really rewarding and a lot of fun.
Value investing is a mindset. It doesn't typically come naturally, but when you get it, you get it. Because it stems from philosophical decisions that drive more than just your investment decisions. It becomes a way of looking at the world. When every important decision you make is based on the opportunity cost of that decision, you wind up with fairly high standards for how you allocate your capital and even your time.
Regarding time, here is how I spent my roughly 24 hours in Omaha:
Friday, 12:15pm: arrive on-time Eppley Airfield. Easy Uber trip to lunch.
12:45 pm: arrive at Le Bouillon in Omaha's Old Market section to join old friends and former colleagues for burgers and Kronenbourgs. The burgers prompt a discussion of last week's IPO of Beyond Meat, the maker of plant-based meats. Someone noted the new market capitalization was greater than the market value of all of the peas in the United States, which we coined the "p to pea" ratio. (This is called analyst humor.) This led to a discussion of how getting more protein into billions more people would make them healthier and enable them to help solve all kinds of problems. This, in turn, led to a discussion of the benefits of having fewer cow farts, which led to discussion of hydrocarbons, lower energy prices, and then lower inflation, and lower costs of capital. Honorable mention: the unique characteristics of the German energy grid, German homebuilding materials, CRISPR, getting into MIT, and Travis Scott.
3:00 pm: After a quick luggage drop-off at the luxurious Motel 6 in Council Bluffs, Iowa, conveniently located next to a TA truck stop and a Perkins restaurant, we ascend one floor to the rooftop bar at Benson 1912, in the Benson neighborhood. We were tempted to buy tickets to the Nirvana cover band playing Friday night at the venue across the street but we decided against it, in part because we did not wish to frighten anyone with our appearance. Brief discussion of the price of private kindergarten on the Upper East Side.
5:00pm: Omaha Country Club for a cocktail party hosted by two groups of friends. Great seeing everyone. One of my friends now has grandchildren. Did I mention the Nirvana thing? There was a discussion of the cannabis craze, but of course we focused on the therapeutic properties of CBD and not so much about THC, about which no one seemed to know anything.
7:30pm: Holiday Lounge. Cannot recommend this little place more highly. Cool little lounge where we watched the Carolina Hurricanes close out the Islanders.
8:30 pm Dinner at Jams, with now three groups of friends. Stories about the good ole days, war stories, etc.
10:30 pm: Back to the Holiday Lounge. Discussion of well, nothing of any commercial importance whatsoever.
11:30 pm. Back to the Motel 6.
Saturday 6:30 am: Rise and shine! (Note: Motel 6 does not provide shampoo.)
7:15 am: Uber departs for the CHI Health Center, where about 30,000 people are lining up to go inside.
8:30 am: The meeting begins, as usual, with a Berkshire Hathaway video filled with cameos. This year included Tim Cook, Bruno Mars, members of the SNL cast, Becky Quick, and of course, the Geico camel. "Mike Mike Mike Mike Mike…"
9:00 am: The Q&A opens, moderated by Becky Quick, Carol Loomis, Andrew Ross Sorkin, Jay Gelb, and Jon Goldfarb.
On the market…
In the very first question posed to Charlie Munger, about today's investing environment and the correct discount rate to use, his response was that it was like an old man's expectation of his sex life. It was just not going to be what it was once like under different conditions.
On fun…
A boy asked Buffett what was the most fun investment he had ever made. His response was that he had once bought a single share of a duck hunting club (98 shares outstanding because two investors had defaulted on the $100 buy in), on the premises of which someone shot the ground and discovered oil. He bought the share for about $29,000 when the duck hunting club had $20,000 cash and was earning an $11,000 a year royalty when oil was at $3. He said he had to borrow the money and when he went to the bank, he was asked if he'd like to borrow a shotgun too.
On America and socialism
Buffett said he was a card-carrying capitalist and believed part of what made America special was the market system and the rule of law. Both he and Munger said they thought capitalism involved taking care of people who get left behind. Munger said he thought there should be a safety net in a prosperous country, but said the private sector would likely be able to do a better job than the public sector in most instances. Pointed out that medical dollars were now equal to total federal government spending. Buffett said he did not believe the country would embrace socialism in 2020, 2040 or 2060.
On leverage
A leveraged business will beat an unleveraged business most of the time, in a good business. Nonetheless, they try to avoid excess leverage because bad things happen even to really smart people. Used the Long Term Capital Management example. "It all turned to pumpkins and mice," Buffett said.
On investing
They try to buy good businesses at decent prices. You can't turn any investment into a good deal by virtue of price. Value investing doesn't necessarily mean discount to book value, or cheap stocks, but rather getting a great return by buying at a price well below intrinsic value. Buffett said it all goes back to Aesop and "a bird in the hand is worth two in the bush." Said your success in investing was tied to your ability to discern how many birds were actually in the bush, how healthy the bush was, and whether you could actually reach the bush.
On Amazon and Google
Munger says he gives himself a pass on missing Amazon early because Bezos "is a miracle worker." On the other hand, Munger said he was "a horse's ass" for missing Google because they were already using it internally at GEICO and could tell how effective it was. "We just sat there sucking our thumbs," Munger said.
On delayed gratification
Saving money isn't the only thing to do in life, especially when the 30-year Treasury is so low, that you're not even really going to be able to eat steak later in life by eating hamburgers now. "There's a lot to be said for doing things that bring you and your family enjoyment rather than saving every dime," Buffett said. "It's not an unqualified course of action." He then added with a grin, "I usually spend two or three cents of every dollar I earn."
On Bitcoin
Munger continued his verbal assault on cryptocurrencies saying he had been invited to the Bitcoin happy hour to be held later that day. He said he expected the hosts would be there celebrating the life and work of Judas Iscariot.
On human behavior
Studying the lives of other people is important, though human behavior cannot be fully learned in books. Figure out what works, and do it.
Advice to a young investment manager just starting out
Buffett said don't take people who have an expectation of people that you can't meet. Make sure every one is on the same page and establish clear ground rules.
Munger launched into a story about Mozart. Munger said a 22-year-old man approached Mozart and said he wanted to write a symphony. Mozart told him he was too young to write a symphony. The young man said, "well, you wrote a symphony when you were seven!" Mozart replied, "Well, I wasn't going around asking people how to do it."
12:00 pm: The morning session, usually the more meaningful one, adjourns. We meander through the exhibits of different Berkshire businesses (See's Candies, Dairy Queen, etc.) and meet some friends at the Hilton across from the arena, before flying out. That's when I saw the guy with the parrot.
In closing, I marvel at the humanity of two investors with superhuman records. The meeting was a great show and the weekend is a wonderful experience, with all the great people involved. The irony, I think, is that the secret to their great success is in their ability to minimize the influence their own humanity has on their process. The amount of time they spend thinking about all the different possibilities is machine-like. Munger often refers to Buffett as "a learning machine." It really is like they're playing chess, though they would probably compare it to bridge, and everything they do is done objectively and with the long game in mind, minimizing massively adverse outcomes and enjoying the compounding that comes with getting an early start and staying alive!
Flying home, I also found myself marveling at the Mississippi River. I'm still just awed by its size and power even today, spanned by highways and flanked by railroad depots, and what it has meant and continues to mean for the country. It's vastness and its agelessness provides a window in the past. Old meets new. Berkshire meets Amazon.
It was a good trip. I hope to return.