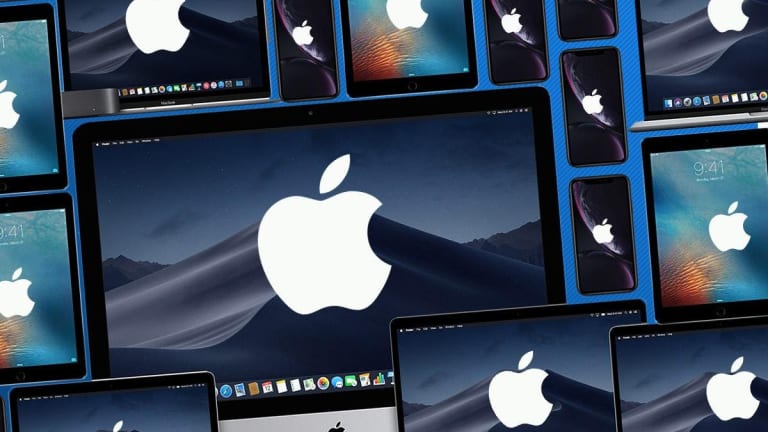 Apple's Earnings Live Blog: What Investors Need To Know, In Real Time
The Apple Maven is covering Apple's fiscal third quarter earnings day live! Join the discussions starting at 4 p.m. EST, and find out what could move the stock next.
"Super Thursday" is here! On the same day that other Big Tech heavyweights chime in on their second calendar quarter results, Apple will release its own fiscal third quarter earnings report.
Expect Apple's press release to hit the wires this Thursday, July 30, at around 4:30 p.m. EST. The earnings call is set to start at 5 p.m. EST, and will be broadcast on the company's investor relations page.
The Apple Maven will follow all the action starting at 4 p.m. EST. But first, let's do a quick recap of what's to come, and what I will be paying close attention to today. 
(Otherwise, scroll straight down to the "Live Coverage Starts Here!" section for real time insights).
Previewing Apple's Fiscal Third Quarter 2020
I have published a series of articles about Apple's fiscal third quarter. Most recently, I released my final recap 12-minute video that you can watch on the Apple Maven's page.
Here are some of the hot topics of the day:
iPhone: I expect this category to improve modestly over fiscal second quarter levels, but don't hold your breath: the rebound should not be very strong. I believe that the iPhone SE will be a positive story alongside Greater China, but a slow response to the COVID-19 crisis in the US may act as a headwind.
Services: I am betting that the App Store and Apple Music, mostly, will carry the quarter. Banks have reported earnings, and the common theme is that spend-from-home trends have remained solid. In my view, services will be the best-performing of Apple's segments this time.
Wearables: smartwatches and wireless headphones are Apple's growth engines today. However, demand for these devices may have suffered from shelter-in-place orders, especially in Europe and the Americas. I expect to see decent revenue growth in wearable revenues, but not at the same 20%-plus pace observed last quarter.
Will Apple guide? I was already a bit skeptical that Apple would guide for fiscal fourth quarter results before. Now, Qualcomm has basically confirmed that Apple's 5G smartphone will suffer some sort of delay in the Fall. Because the Cupertino company has a great excuse to skip guidance this time once again (a.k.a. COVID-19) and dodge scrutiny over the upcoming iPhone 12 release, I bet that Tim Cook and his crew will take advantage of the opportunity.
Want to know what Jim Cramer had to say about the Apple Maven's pre-earnings question, earlier this morning? Check it out!
Live coverage starts here!
11:30 a.m. PST: We are on standby! Once again, the earnings release should be available around 4:30 p.m. EST, or 1:30 p.m. Cupertino time. Stay tuned!
1:00 p.m. PST: The closing bell has rung! It's time! Welcome to the live coverage of Apple's fiscal third quarter 2020 results.
1:03 p.m. PST: The Nasdaq 100 finished the session strong! Up +0.4% vs. the S&P 500's down -0.4%.
1:05 p.m. PST: Check out the chart below. Apple was up this Thursday, more so than the rest of FAAMG and well above the S&P 500. Looks like a bit of last-minute optimism.
1:07 p.m. PST: Don't forget that today is not just Apple's day. By my count, more than 300 companies of all sizes have reported or will report results today.
1:09 p.m. PST: Of course, the big stars of the day will be Amazon, Facebook and Alphabet, alongside Apple.
1:10 p.m. PST: Facebook is in, and the stock is zipping higher!
1:11 p.m. PST: Facebook is mostly a stay-at-home company. I think this is a good sign for Apple's services segment.
1:11 p.m. PST: Amazon is in! Another winner in after-hours trading...
1:12 p.m. PST: How do you think Apple will perform today? I asked this question on Twitter. Let's see what people had to say:
1:14 p.m. PST: So far, 60% of respondents expect "Amazing results!" Only 17% think that Apple will bomb it.
1:17 p.m. PST: As a quick side note, I will be speaking with The Street's Kaitlin O'Toole between 4:45 p.m. and 5 p.m. EST, just ahead of Apple's earnings call. Expect a bit of silence on my end around that time. Be sure to leave your comments below to keep the conversation going! 
1:18 p.m. PST: Quick look around the market, Facebook is now up +7% in after-hours, Amazon is up +4%. What a day!
1:20 p.m. PST: Back to Apple, consensus expectations for fiscal third quarter are a bit all over the place. The average points at revenues of $52.6 billion for a -2% decline year over year, and EPS of $2.07.
1:21 p.m. PST: Alphabet is in! The stock is up a bit over +1%. Big Tech for the major win so far! It's all up to Apple now.
1:23 p.m. PST: What are you concerned about regarding Apple? What are you excited about? Leave a comment below!
1:25 p.m. PST: We are five minutes out from looking at Apple's earnings release. Deep breath for the home stretch...
1:30 p.m. PST: Apple stock is off! +5% on "knee-jerk" reaction.
1:31 p.m. PST: Revenues are up 11%, EPS at $2.58 -- this is impressive!
1:33 p.m. PST: Time to plug in some numbers. All segments are up, all geographies are up year over year. What a quarter!
1:37 p.m. PST: A couple other important observations: (1) no guidance in sight for fiscal fourth quarter, as I expected, and (2) an "old school" 4-for-1 stock split has been announced.
1:40 p.m. PST: Here's a P&L snapshot for you:
1:41 p.m. PST: Quote from Wedbush's Dan Ives: "Apple bears can now go back deep into their caves". Priceless.
1:42 p.m. PST: Fun fact: Apple beat even the highest end of analysts' revenue and EPS estimate range.
1:45 p.m. PST: This will be an interesting earnings call. Now, I take a quick break ahead of it to speak with The Street's Kaitlin O'Toole. Leave your impressions in the comments below!
2:05 p.m. PST: We're back! Thanks for your patience. Earnings call is on.
2:07 p.m. PST: CEO Tim Cook has the floor.
2:08 p.m. PST: iPhone did particularly well in May and June. iPhone SE was a factor, as expected.
2:08 p.m. PST: Tim Cook speaks of deceleration in wearable sales. Once again, this is something that I expected to see. Still, amazing performance, up +17%.
2:09 p.m. PST: App Store and Apple Music mentioned as areas of strength. Apple TV+ is praised as well.
2:10 p.m. PST: Apple crosses the finish line, 6 months ahead of schedule, on its goal to double fiscal 2016 services revenues. Already highly expected before earnings day.
2:14 p.m. PST: Tim Cook speaks about longer-term factors impacting Apple's businesses: iOS updates, Mac's new silicon design, etc.
2:16 p.m. PST: More inspiring words from Tim Cook. Very timely, given all that has happened in 2020.
2:16 p.m. PST: Time for some number crunching! CFO Luca Maestri has the floor.
2:17 p.m. PST: 3 percentage point FX headwinds. Wait, revenues could have been better then? Impressive.
2:18 p.m. PST: It looks like Apple's quarter was really split into two: a soft April and a strong May and June.
2:19 p.m. PST: Review of margins and cash flow. It all looked very solid.
2:20 p.m. PST: "Very successful launch of iPhone SE and benefit from stimulus packages".
2:21 p.m. PST: Apple TV+, Apple News+, Apple Arcade and Apple Card singled out as "contributors to the ecosystem". Definitely not making much of a difference to Apple's financial results so far.
2:22 p.m. PST: Mac did very well across each single geographic segment. Wow.
2:24 p.m. PST: Retail set record sales in June, but the online channel was credited for the strength. Not a surprise, given all the store closures in the US and elsewhere.
2:25 p.m. PST: I have to admit, I can not find anything negative to say about Apple's fiscal third quarter. China sales maybe? The +2% revenue growth in the region was a bit below where I expected to see it.
2:27 p.m. PST: For the upcoming quarter, no guidance will be given. But here comes some color:
2:27 p.m. PST: CFO Luca Maestri expects iPhones to be strong going forward, BUT he has confirmed that the iPhone 12 will be delayed by a few weeks.
2:28 p.m. PST: Virtually no change to after-hours share price after the CFO's announcement about the iPhone delays. At this point, maybe the delay has already been fully priced in.
2:29 p.m. PST: Q&A time! Morgan Stanley's Katy Huberty is up first, she is one of the bulls.
2:31 p.m. PST: CEO Tim Cook: "trade-in program makes the iPhone super affordable". This is one of the key tenets in Katy's bullish case.
2:33 p.m. PST: iPhone SE leading to higher switcher rate compared to previous year, according to the CEO. That's positive news, it looks like Apple figured out the demand equation well.
2:33 p.m. PST: Cowen analyst asks a question about Apple TV+ and production.
2:34 p.m. PST: Tim Cook does not commit to a new revenue goal for the services segment.
2:35 p.m. PST: Good question on whether the back-to-school season has been pulled forward by a quarter. CFO Luca Maestri sidestepped the question a bit, I think, saying that he is positive about Mac and iPad demand.
2:37 p.m. PST: CEO Tim Cook addresses China. In constant currency terms, the region would have been up 6%. That sounds a bit better. Tim mentions strength in Mac, iPad and services there. I did not hear "iPhone". It's been a tough battle with Huawei et al. for smartphone market share in Greater China.
2:39 p.m. PST: Strong cycle in iPhone 11, plus good launch of iPhone SE, plus stores reopening combined to lift smartphone sales, according to Tim Cook.
2:42 p.m. PST: CFO Luca Maestri talks margins. Product mix is mentioned as an important driver of profitability, as well as FX.
2:43 p.m. PST: Question on smartphone upgrade cycle in China. This is something that Wedbush's Dan Ives has mentioned in the past as a future positive. Tim Cook dodges the question a bit, saying that Apple needs to keep innovating and offering financing and trade-in programs.
2:45 p.m. PST: Tim Cook provides interesting color that makes sense to me: work- and study-from-home trends have been favorable to Mac and iPad, which helps to explain the strong results this quarter. But the same forces impact iPhone and wearables in the other direction.
2:47 p.m. PST: Impact of COVID-19 on operating expenses: CFO Luca Maestri mentions reductions in traveling being a positive, offset by initiatives like donation matches. Net-net, Luca says that the COVID-19 forces are somewhat negative.
2:48 p.m. PST: Apple Maven's take: opex will not even be a top 10 topic of conversation this quarter. Costs were higher year over year, but overshadowed by strong revenue growth.
2:50 p.m. PST: CFO Maestri talks about service gross margins being up, driven by mix.
2:52 p.m. PST: CEO Tim Cook says that the Apple Watch was probably negatively impacted by store closures, as customers want to try on the device before buying it.
2:54 p.m. PST: Finally a question about the iPhone 12 delay!
2:55 p.m. PST: CFO Luca Maestri only reiterated his statement that the product will be delayed by a few weeks. That's what I call "poker face"!
2:57 p.m. PST: Question about Apple's own silicon, and whether the company would ever want to market it externally. Tim Cook's answer is basically "no".
2:58 p.m. PST: And that's a wrap!!
2:59 p.m. PST: So, what have we learned?
3:00 p.m. PST: Apple Maven's take: I think this was a historic quarter for Apple. The company managed to knock it all of the park across the product and geographic categories in the middle of a global crisis.
3:03 p.m. PST: Two relatively small segments, the iPad and Mac, came in substantially above my expectations. They were huge beneficiaries of the stay-at-home economies. The 8% revenue increase in the Americas was also a very pleasant surprise, considering how disruptive to business (and to life in general) COVID-19 has been in the US.
3:04 p.m. PST: Guidance for fiscal 4Q was not provided, as I expected, but that is fine. The intra-quarter narrative seems to have been positive leading to the end of June.
3:05 p.m. PST: Thoughts? Questions? Complaints? Leave your comment below!
3:06 p.m. PST: Before we wrap up, let's take a look "at the final score"... Apple stock is up +6% in after-hours trading and +7% for the whole day.
3:08 p.m. PST: elsewhere in Big Tech, Facebook is up nearly +7% after hours; Amazon is up nearly +6%; and Alphabet is higher by about +1%. Landslide! Expect the S&P 500 and especially the Nasdaq 100 to be very strong tomorrow.
3:10 p.m. PST: That's it! Thanks for being with the Apple Maven on this adrenaline-filled Super Thursday. I invite you to keep checking www.thestreet.com/apple for frequent updates on Apple, including more earnings coverage in the next few days.
3:10 p.m. PST: Take care, everyone! Happy investing!