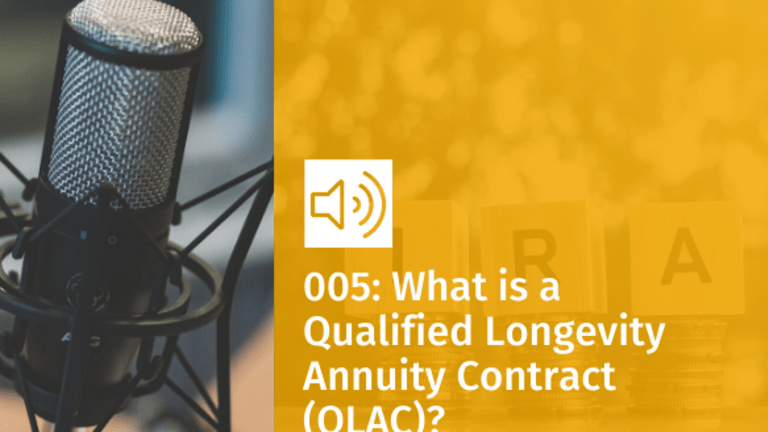 Episode 005: What is a Qualified Longevity Annuity Contract (QLAC)?
Podcast 005: QLACs are future lifetime income guarantees used in Traditional IRAs
Note:  The new 2020 funding rules for QLACs (Qualified Longevity Annuity Contracts) is the lesser of 25% of your total qualified (non-Roth) assets or $135,000.
On July 1st, 2014, the Department of the Treasury and the IRS approved the use of a longevity annuity within qualified accounts.  That specific type is called a Qualified (or Qualifying) Longevity Annuity Contract, or the commonly used acronym QLAC.  It's important to point out that the QLAC is not a new product, because the longevity annuity strategy was actually introduced in 2004.  A QLAC is the result of a new IRS ruling of an existing product structure, the longevity annuity (aka: Deferred Income Annuity or also referred to as a DIA).
The QLAC strategy was primarily passed so that younger workers participating in a 401k's (i.e. defined contribution plan) could have the option to invest in a product that guarantees a lifetime income stream that started at a future date.  The QLAC ruling also allows a person with a Traditional IRA to defer past the 70 ½ RMD age limitation to a maximum age of 85 to plan for future income as well.  You don't have to defer as far out as age 85, but that is the max. 
My prediction is that Traditional IRA funds will represent the majority of QLACs sold because people can potentially lessen taxes on the Required Minimum Distributions (RMDs) while providing a lifetime income stream.  In addition, a QLAC allows an IRA holder to add their spouse/partner as a "joint annuitant" for joint lifetime income guarantees.
You probably didn't even know that you already own a QLAC structure. That future annuity payment is called Social Security.  Yes, that's an annuity.  When you choose to delay your Social Security payment, that is in essence a longevity annuity structure. 
In this episode, The Annuity Man discusses:
What is a QLAC and how does it work
The benefits and limitations of a QLAC
The history of QLACs
Why QLACs should be the #1 annuity type owned by consumers
Key Takeaways:
QLACs solve for future lifetime income needs using your Traditional IRA
QLACs allow you to add your significant other to the payment stream
Everyone with a traditional IRA should get a QLAC quote for their specific situation
QLACs and DIAs are the same product structure, but with different rules on how and where they can be used 
Fun with Annuities Podcast is hosted by America's Annuity Agent, Stan Haithcock, The Annuity Man. Hear brutal annuity facts with no sales pitches from the top independent agent in the country, licensed in all 50 states. Author of 7 books, Stan dives deep on all annuity types and strategies. It's fun, learning the contractual truths on how annuities actually work and if they'll fit your personal retirement lifestyle. Listen in on how you can be livin' the reality, not the dream.
Listen on Stitcher, Apple Podcasts, and Spotify. Get the best and highest confinement care and enhanced benefit quotes using Stan's proprietary annuity calculators. You can also receive all 6 of The Annuity Man Owner's Manuals for free and under no obligation and see a live feed of the best fixed rates for your specific state of residence.