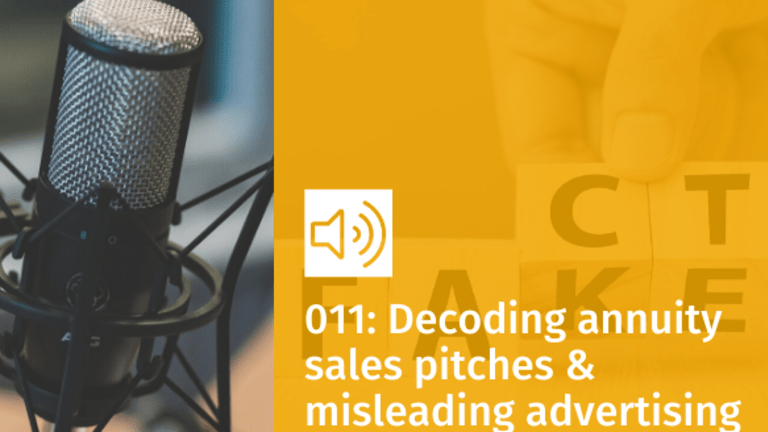 Episode 011: Decoding annuity sales pitches and misleading advertising
Fun with Annuities Podcast explains current misleading annuity sales pitches and advertising
Annuities are the current curse word of the financial industry.  The main reason for this unfortunate status revolves around over-hyped sales pitches and misleading advertising to convince you to buy.  It's important to understand that annuities (regardless of type) are contracts, and should be purchased solely for their contractual guarantees.
Because fixed annuities are regulated at the state level, most states don't have the manpower to oversee all of the sales practices used to pitch annuities.  National radio and TV ads go largely unchecked, and the bad chicken dinner annuity seminar circuit is alive and well across the country. 
Unfortunately, the primary product type that is too often over-hyped during the sales process is Fixed Index Annuities (FIAs).  They are also called "indexed annuities" and "equity indexed annuities" as well as "hybrid annuities."  The bottom line is the product was designed in 1995 to compete with CD returns, and it classified as a life insurance product and not a security. 
Your only protection is to create your own Statement of Understanding.  It's easy to do.  Simply write down the agent's sales pitch exactly how you understand it.  Be as detailed as possible.  After you finish, simply sign and date that document at the bottom of the page and have that soliciting agent sign and date as well.  That's the best fraud protection you have in the wild wild west of annuity sales.
In this episode, The Annuity Man discusses:
How to buy the annuity steak, not the sales-pitch sizzle
Own an annuity for what it "Will Do. Not might do."
Where annuities can fit properly in your portfolio
Current sales pitch trends you need to be aware of
Key Takeaways:
There are no perfect answers, just bad sales pitches
Any time an extra benefit is being provided it is not being given away by the annuity carrier…just priced in
Upfront bonuses and high % Income Riders are just parts of the overall contractual guarantees
Annuities should be viewed as transfer of risk contracts, not investments 
Fun with Annuities Podcast is hosted by America's Annuity Agent, Stan Haithcock, The Annuity Man. Hear brutal annuity facts with no sales pitches from the top independent agent in the country, licensed in all 50 states. Author of 7 books, Stan dives deep on all annuity types and strategies. It's fun, learning the contractual truths on how annuities actually work and if they'll fit your personal retirement lifestyle. Listen in on how you can be livin' the reality, not the dream.
Listen on Stitcher, Apple Podcasts, and Spotify. Get the best and highest confinement care and enhanced benefit quotes using Stan's proprietary annuity calculators. You can also receive all 6 of The Annuity Man Owner's Manuals for free and under no obligation and see a live feed of the best fixed rates for your specific state of residence.