We Are Never, Ever, Gonna Get a Correction!
Posted on 02/13/13 - 11:37 AM EST
Decision time! Prepare for a pullback! I am so bullish, I can't wait to go all in on a correction!
Some of you know I have been listening to a little bit of Taylor Swift lately, and maybe it has been influencing me. But what if it never happens? Well not never, but say all of 2013? Are you ready for that? For all those waiting for a top based on sentiment, your cabbie or barber showing interest, or what ever, consider this simple 21 year monthly chart of the S&P 500. The Triple Top rejection you are waiting for may never occur. The evidence? The momentum indicators Relative Strength Index (RSI) and Moving Average Convergence Divergence indicator (MACD). The RSI is an oscillator and moves back and forth between 0 and 100. Caution flags get raised at 70 as technically overbought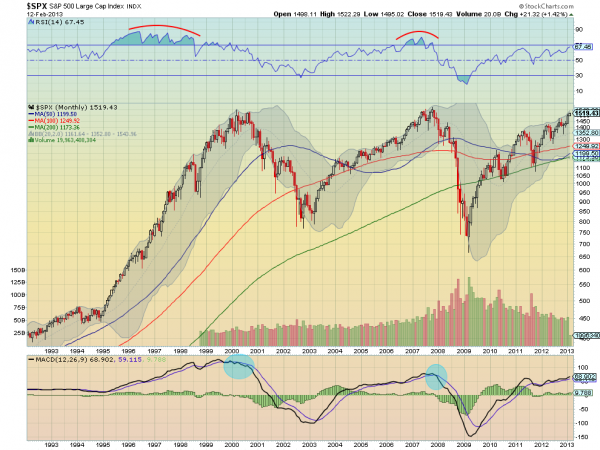 and 30 as technically oversold, but extremes can move well beyond those levels. The RSI tells us the strength of the trend and this chart shows that the strength is growing. More so, the first two tops in your Triple Top occurred after the RSI hit extreme values over 80. It is no where near there yet. The other indicator at the bottom, the MACD, shows that the signal line is just reaching the level of the second top and still well below that of the first top. What is more both of the corrections following those tops occurred after the signal line firmly crossed lower. The current picture just shows a move higher. All of this could reverse tomorrow or next week or at Easter or never. What is important for now is to notice that there are no signs of weakness. Let me repeat that
NO SIGNS OF WEAKNESS
. Go ahead and fade this market if you must. It does take two views to create a trade.