It's Burger Time -- the Stocks, Not the Food
Posted on 01/16/13 - 10:59 AM EST
We learned recently from Yum Brands, YUM, that the Chinese are not eating enough Kentucky Fried Chicken and the stock took a nose dive. Many thought that fast food was the problem broadly. But I recall a wise man once saying, I'll gladly pay you Tuesday for a hamburger today. That man, Whimpie of Popeye fame, must have been buying the hamburger stocks with his money as he was asking his friends for a handout. For now it is Tuesday and a look at the charts of the burger joints shows they have had some great moves and look ready for more. Smart man that Whimpie.
Burger King Worldwide, BKW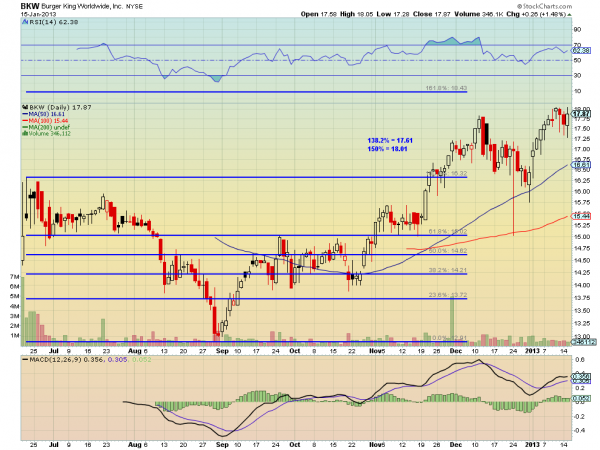 Burger King Worldwide,
BKW
, has been trending higher since September and retraced its move lower from just after the IPO in June. With a bounce off of the retest of that level at the end of December it is now consolidating under 18.01, the 150% Fibonacci extension of that move. The Relative Strength Index (RSI) is bullish and rising and the Moving Average Convergence Divergence indicator (MACD) is positive, both supporting further upside movement. The next spot to enter is over 18.01 for a Measured Move higher to 20.
McDonald's, MCD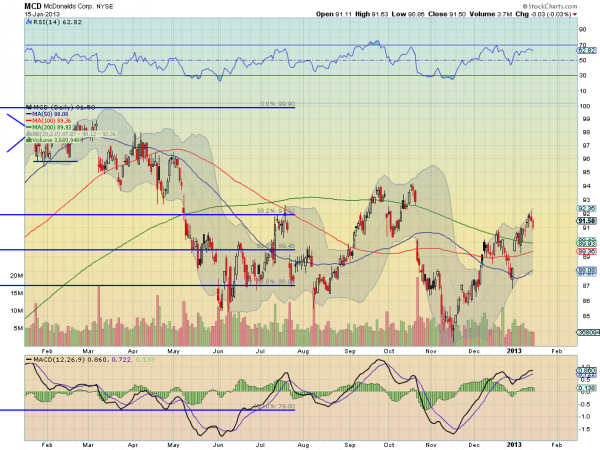 ​
McDonald's,
MCD
, had a bit of a rough time in 2012 after peaking just under 100. But since id November the trend has been higher with a healthy pullback to the 50 day Simple Moving Average (SMA) to end the year. This created a target on a Measured Move higher to 94.50. It has a positive MACD and a bullish RSI but both are fading a bit. Wait for a move over 92 to enter this stock.
Sonic, SONC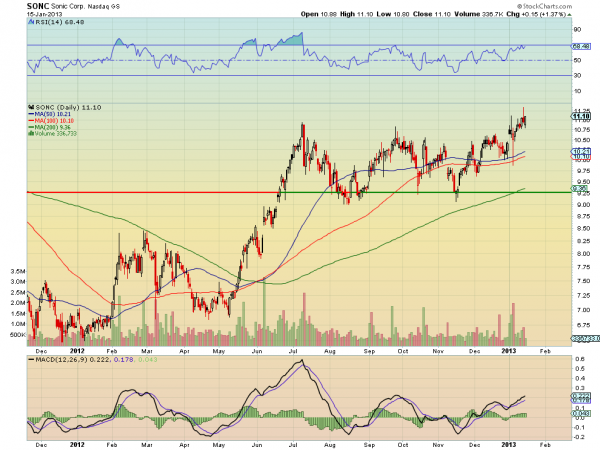 Sonic,
SONC
, is moving higher after a basing between 9.25 and 10.75 from July through year end. It has support for more upside from a the RSI and MACD as well. The cautionary Shooting Star from Monday was not comfirmed. Instead it moved back higher and now a move over 11.10 can be your entry.
Wendy's/Arby's, WEN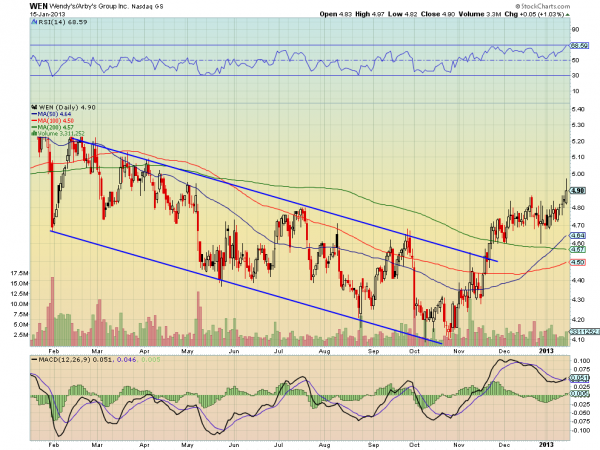 ​
Wendy's/Arby's,
WEN
, is the final burger joint ad it reports earnings Wednesday morning. After running lower in a channel beginning in February 2012 it bottomed and has been moving higher since late October. The RSI is bullish and rising and the MACD is about to cross to positive. It also printed a Golden Cross a few days ago, with the 50 day SMA crossing over the 200 day SMA. A positive reaction to the earnings report is your buy signal.