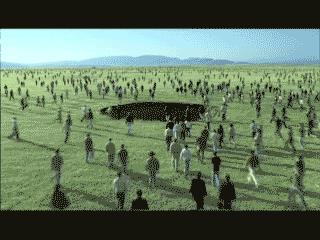 I mentioned last week, and even yesterday, the ISM Report for Wednesday will be bad. But I'll admit that after yesterday's terrible data encouraged bulls, I had to scratch my head. It appears now Tuesday's late day ramp higher, clearly shown in the SPY 5 minute chart yesterday, was pure manipulation and marking prices higher to support portfolios.
Window dressing is illegal and hardly ever discovered or punished. Tuesday will be no exception. Even late in the day Tuesday, the CME lowered margins for trading most stock index futures which was one helluva trap. So, at least for Wednesday the theme: "bad news is good, good news is better" is off the table, if only for today. Yesterday's bullish move was wrapped around the Greek 60 billion euro bailout. (Greek debt was lowered again by
Moody's
Wednesday. They're so on top of things, eh?) Meanwhile, the ADP Employment picture came in at 38.5K jobs added against expectations of 170K and a prior reading of 177K. The hammer was dropped by the important ISM Index at 53.5 versus estimates of 57.6 and a prior reading of 60.4. These readings combined with other recent reports reveal an economy in rapid decline. One thing also shown in our postings over the past month has been the appearance of 203 "monthly" DeMark 9 counts from our database of 515 securities, futures and ETFs. Do these signify a top? Not necessarily since all these generally indicate is "trend exhaustion" and nothing more. We could churn sideways or possibly face a correction that could be mild or even more severe. When DeMark counts fail it just means trends are very strong. I believe QE2 has increased the possibility of a DeMark failure as many technical indicators have also been steamrolled by QE2. And speaking of
POMO,
another $7.3 billion was added to the Primary Dealer network Wednesday. There's no stopping the Bernank & Co. Below is a chart from our internal database showing the current monthly DeMark 9 now completed Tuesday in this case for DIA.
Volume was quite high comparatively on Wednesday. Some bulls were saying this was just a quiet summer shortened week. I don't think that's right. Breadth per the WSJ may have been a 10/90 day.
You can follow our pithy comments on
twitter
and join the conversation with me on
facebook
.
Continue to U.S. Sector, Stocks & Bond ETFs