Silver-Investor.com
, says that gold and silver still have to consolidate their big 2010 moves. Gold popped 26% while silver soared 80% and prices will need to sell off further. Gold's double-digit rally Thursday wasn't a fakeout, says Morgan, but just part of the consolidation process. As far as a long-term position, Morgan says he "would be a little more cautious here. You're going to see these moves up and I think down as well." Morgan still favors silver as the metal with more future upside.
"In the physical realm I have never seen the silver market as tight as it is right now," Morgan says, adding this strong demand for silver has come from retail investors who got interested in the metal when it broke through $20 while gold was making all new and expensive highs. Institutional investors are also leading the silver charge.
ETFS Physical Silver
(SIVR)
added 7.2 million shares in 2010 and has only shed 207,000 shares in 2011 despite silver's violent selloff. Its more popular competitor,
iShares Silver Trust
(SLV)
, has 333 million ounces of silver.
Silver prices
were up 28 cents at $29.34 while copper was flat at $4.57. Silver closed 2010 at $30.93 and if the metal is able to break that level momentum buyers will mostly likely come into the market. A substantial break higher could also trigger buy orders as traders buy silver at a predetermined price.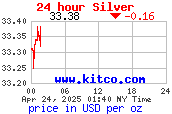 Gold, on the other hand, has big support from China, which most likely won't wane this week as the nation celebrates its new year. The national news agency reported Sunday that China's gold output in 2010 was 340.88 tons and the country still had to import 209 tons in the first nine months of the year to meet demand. Total 2010 import figures aren't available yet. Chinese gold producers have been looking outside the country to find more gold. China National Gold Corp bought half of

Coeur d'Alene Mine's (CDE - Get Report)

gold concentrates from its Kensington gold mine in Alaska. Over the weekend reports circulated that China is offering to lend $3 billion to Zimbabwe for money generated from local diamond and platinum mines, which just goes to illustrate China's thirst for precious metals.

David Morgan, founder of