TheStreet
) --
Gold prices
Tuesday staged a big rally as investors fled to the safety of the hard asset after the S&P downgraded Greece and Portugal. Gold for June delivery was surging $6.80 to $1,160.80 an ounce at the Comex division of the New York Mercantile Exchange. The gold price Tuesday has traded as high as $1,165.30 and as low as $1,146.60. The U.S. dollar index was adding 0.61% to $81.71 while the euro was sinking 0.55% against the dollar. The spot gold price today was popping over $8, according to Kitco's gold index.
The gold price Tuesday was reversing earlier losses and was retaking the $1,160-an-ounce area. Standard & Poor's slashed Greece's sovereign credit rating to junk and lowered Portugal's long term credit rating from A+ to A negative. Investors were turning to the safety of the hard asset and were giving gold prices a boost. Gold had been under pressure as today's
options expiration
triggered minor technical selling. Investors are still cautious ahead of
Lloyd Blankfein's testimony to Congress
over Goldman Sachs' behavior during the subprime mortgage crisis and the start of the
Federal Reserve's
two-day
FOMC
meeting. The Fed is expected to keep key interest rates at zero or 0.25%, but any wording that the Fed is worried about inflation could pressure gold prices even further. Any end to the flow of free money will support a stronger dollar and make gold more expensive to buy in other currencies. For now, fear and bargain hunting are buoying prices and pushing gold up to $1,175 an ounce. The gold ETF,
SPDR Gold Shares
(GLD)
, added more than 6 tons on Monday to a record 1,146.22 tons. The physically backed ETF is a popular way to invest in gold as a trader can own gold without the hassle. Shares were up 0.74% to $113.59. "For the moment we expect gold to maintain its current sideways to higher trend," says James Moore, analyst at thebulliondesk.com in his daily metal report. "[Gold will be] underpinned by scaled down physical and investment buying but still requiring a close above $1,161 to confirm a break-out." The
price of silver
was down 5 cents to $18.28 while copper prices were losing 7 cents to $3.45.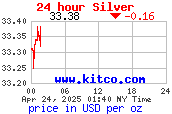 Platinum and palladium were also suffering minor losses despite the fact the

Ford reported a blowout quarter

.

Ford (F)

expects to sell 11.2 million cars in just North America for 2010 and is taking market share in Asia, Europe and South America. Platinum and palladium are key metals used in car manufacturing. CEO Alan Mulally said, "The recovery is fragile and the global auto industry continues to deal with excess capacity." Any ramp up in production could constrict the supply of platinum and palladium, which would support higher prices.

NEW YORK (