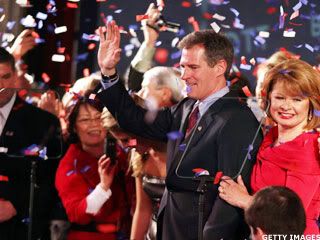 BOSTON (
TheStreet
) -- The election of underdog Republican Scott Brown to the open U.S. Senate seat in Massachusetts Tuesday night greatly reduces the odds that health care reform will pass Congress and could extend a rally in health care stocks. Brown's victory over Democrat Martha Coakley for the Bay State Senate seat vacated by the death of liberal lion Sen. Edward Kennedy gives Republicans 41 seats in the U.S. Senate. With those numbers, Republicans have the votes needed to break the Democrats' 60-seat majority and force major changes, or even stop completely, President Barack Obama's health care reform proposals.
The demise of health care reform is likely to be seen as a net positive for the health care sector, with investors expected to buying into the sector Wednesday. "We expect the broad health care rally to continue, given that many generalists perceive Obamacare as unfavorable to the sector. We would, however, specifically highlight the HMO stocks, which bear the greatest burden in the proposed legislation," said Monness Crespi Hardt health care analyst Avik Roy, in a note to clients Tuesday night. Roy expects HMO stocks with the largest exposure to Medicare Advantage are best positioned for a rally with a Brown victory, including
Humana
(HUM - Get Report)
,
Coventry
(CVH)
,
WellCare
(WCG - Get Report)
,
HealthNet
(HNT)
and
UnitedHealth
(UNH - Get Report)
. U.S. pharmaceutical stocks were already outperforming the broader
S&P 500
since the fall. Brown's victory could extend that rally, says Bank of America/Merrill Lynch analyst Eric Lo. "Failure for reform would remove any near-term [earnings] pressure and provide incremental cash flows for companies to return to shareholders or utilize for deals to bolster the pipeline," he writes Wednesday, adding that
Bristol-Myers Squibb
(BMY - Get Report)
and
Eli Lilly
(LLY)
have the most to gain due to their relative high exposure to government-related drug spending.