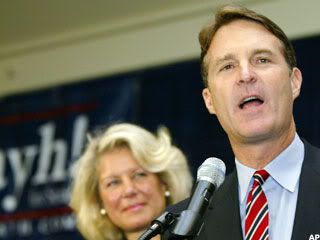 WASHINGTON (
TheStreet
) -- Evan Bayh, the junior senator from Indiana, is in the middle of a heated debate in the Senate on whether a public option should be included as part of President Obama's health care reforms. An organizer of a group of so-called Senate Blue Dog Democrats, to date, Bayh's been a staunch opponent of any changes to the status quo in this debate. He's worried aloud that any public option would be a nod to socialism and counter to his principles as a fiscal conservative. When pressed on the issue, he's said he's simply a vessel reflecting the views of his Indiana constituents.
Yet Bayh, who until very late in the campaign last year was considered a top contender to be Obama's vice president, is at best naive and disingenuous, and at worst supremely hypocritical in pushing his views as those of his voters. His wife, Susan Bayh, sits on the board of
WellPoint
(WLP)
in her hometown of Indianapolis. Over the last six years, Susan Bayh has received at least $2 million in compensation from WellPoint alone for serving on its board. She joined Anthem Insurance (the precursor organization to WellPoint) in 1998, when she was 38 years old and a midlevel attorney working for
Eli Lilly
(LLY - Get Report)
. Her work experience prior to her stint at Lilly was five years as a junior law professor at Butler University in Indianapolis. Her work background at the time she was appointed to the Anthem board would have been surprising, given that she had no insurance experience and was relatively young and inexperienced to serve as a director on a multibillion-dollar board. However, Susan Bayh had one competitive advantage that made her stand out as attractive to Anthem: She was married to Evan Bayh -- former governor of Indiana who, in 1998, was elected to the U.S. Senate.